King Gizzard & The Lizard Wizard


Paper Mâché Dream Balloon
ATO Records [2015]


Fire Note Says: KGATLW goes all flute on you with plenty of quirky and catchy outcomes.
Album Review: Hopefully we have featured King Gizzard & The Lizard Wizard enough lately that you shouldn't be scared of the name because they definitely stands out. Australia's King Gizzard & The Lizard Wizard have been working at a fast pace since their more garage rock start in 2010. Since that time, they have been evolving under the psychedelia revival tag with quality full length records like Float Along. Fill Your Lungs (2013), Oddments (2014), the Headphone Approved I'm In Your Mind Fuzz (2014), and this year's Quarters! (2015). They have been a band that has been fun to watch slightly change with each record as they have shifted from a more instrumentally driven psychedelic vibe with Lungs/Oddments, to adding more vocals and distortion on Fuzz while Quarters! found a theme and four ten minute tracks that had a little of everything for everyone.
It should be no surprise that Paper Mâché Dream Balloon moves into a different direction on their ATO Records debut which finds the group lightening the mood with shorter and bouncier songs that believe it or not, have a catchy flute as its driving instrument. I know it sounds odd but that is KGATLW and even though fans may have an initial hard time swallowing it (like I did), I encourage that Paper Mâché Dream Balloon be given its proper spin because all of the weirdness and groove you enjoy from KGATLW is in here.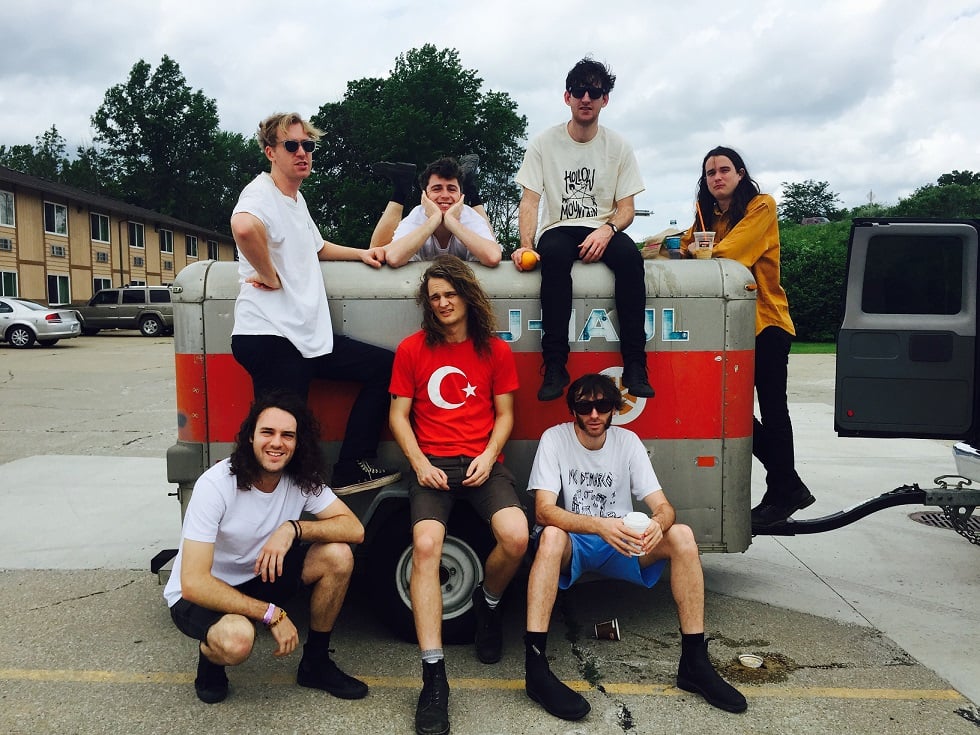 "Sense" kicks the record off and its late 60's jazzy breeze immediately will strike you. It is a mature and focused sound that tells you that once again this is a new record. The following songs, "Bones" and "Dirt," have a much more upbeat pop to them that would fit nicely in the 90's Elephant 6 collective. Each of those bands like Apples in Stereo, Elf Power, and of Montreal all had their variation – KGATLW's would be the flute! The title track is the first to really give a nod to their catalog as it starts very similar but possesses some ultra-catchy up tempo shifts that become ingrained in your head.
Elsewhere, KGATLW bring some solid quirks, like on the pulsing "Trapdoor" that will be intense live while "The Bitter Boogie" gives off a bluesy swamp rock energy that is complete with harmonica. All the way to the record's conclusion, KGATLW give you something unique for 2015. At the end of the day, Paper Mâché Dream Balloon is all about the band's need not to be pigeonholed. This record not only meets that goal but also is composed in a way that will easily be transitioned into a more electronic setlist. KGATLW have been preforming much heavier material live lately, so the way this group can churn out albums – Paper Mâché Dream Balloon is certainly just a momentary rest period, but one that gets better around every corner.
Key Tracks: "Sense" / "Paper Mâché Dream Balloon" / "The Bitter Boogie"
Artists With Similar Fire: T. Rex / The Apples In Stereo / Kaleidoscope

King Gizzard & The Lizard Wizard Website
King Gizzard & The Lizard Wizard Facebook
ATO Records
– Reviewed by Christopher Anthony

Latest posts by Christopher Anthony
(see all)