Japandroids


Celebration Rock
Polyvinyl Records [2012]


Fire Note Says: Japandroids sophomore record Celebration Rock is true to its title and will turn out to be one of the best releases you hear in 2012!
Album Review: "We yell like hell to the heavens" is a line out of the first track "The Nights Of Wine And Roses" from Vancouver's Japnadroids sophomore record Celebration Rock and it couldn't have hit the nail on the head any better. I truly suggest you take a deep breath right before you put on this album because it is an excellent 35 minutes of indie rock that expands the groups songwriting and is better than their solid debut Post-Nothing [2009].
What makes Celebration Rock so good is that the original winning formula from singer/guitar player Brian King and drummer David Prowse stays completely intact as each song here is loud, fast and sonically crisp. The album itself once again offers 8 tracks while even the artwork is completely similar so you might be thinking that the Japandroids made the same record – right? Well, not exactly as the band has now found a greater depth to their songwriting.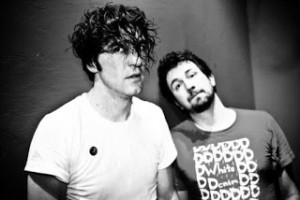 This expansion of lyrical material here now goes more external of the band which gives Celebration Rock and the Japandroids the soul that held Post-Nothing back a bit. "The House That Heaven Built" gives a reaffirming statement to let nothing stand in your way as you can "tell them all, to go to hell" while "Younger Us" finds them looking back on a more wild and carefree life. These are all anthems that Japandroids create song after song that listeners can latch onto, identify with and then totally rock out and enjoy singing along. This type of song structure is not only fun but never gets old on Celebration Rock as the band starts, tears it up and then stops smart and simple style.
Along with a perfect sequencing that includes a cover of The Gun Club's "For The Love Of Ivy" ending side A and a slower tempo in "Continuous Thunder" wrapping up the record, Celebration Rock is a true statement for the genre. Japandroids have succeeded in what every band wants in a sophomore record which is to avoid the slump, grow as songwriters, build your fan base and still be able to rock the hell out of your audience. Japandroids do it all here and at the same time have released one of the best records this year!
Key Tracks: "Fire's Highway", "The House That Heaven Built", "Younger Us"
Artists With Similar Fire: Cloud Nothings / Superchunk / The Replacements
Japandroids Website
Japandroids Facebook
Polyvinyl Records
-Reviewed by Christopher Anthony

Latest posts by Christopher Anthony
(see all)