Jacob Morris


MOTHS
Cloud Recordings [2012]



Fire Note Says: Jacob Morris aims to please on his debut album.
Album Review: Jacob Morris is a singer-songwriter with roots in both Athens, GA and Austin, TX. With those two cities in his musical heritage great things could be expected of him. MOTHS is his debut album and harkens back to AM radio of the 1970s. His voice has a Jim Croce quality to it and the arrangements throughout the album have a folk/pop/singer-songwriter feel to them. I found myself playing the album while preparing dinner, while writing a report at work, and while having a conversation with friends and family. Morris has crafted a subtle background music album with MOTHS.
The album begins with the track "Sidewind." It has a jangle-pop feel to it, reminding me of another well-known band from Athens. The lyrics are more straightforward than an REM song and the harmonies are more intricately pieced together. The song has a comfortable, pleasant feel to it that is familiar. Another standout from the album is "Landscapes." This could have been a title track for the album as a whole, as Morris excels at creating a specific nostalgic feeling throughout MOTHS. The ambience is consistent throughout – this is a comfort food album if such a thing existed. There is an organ on "Landscapes" that is grainy and underproduced, which appealed to my senses a great deal. Morris sings with a wistfulness that connotes a desire for simpler times. At 3 minutes and 15 seconds the track doesn't end abruptly but feels as if it could have lasted another 5 minutes. The last track on MOTHS "Click of Your Watch #1" fleshes itself out with more length and caps the album perfectly. Lush guitar, some strings, and Morris' shaky tenor come together to form a cohesive unit.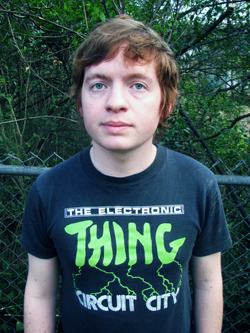 The one limitation and the primary strength of MOTHS is the sense of familiarity that it breeds. While executed deftly and tightly – there are no stray tracks on the album – its potential is capped by the genre it inhabits. It takes a lot to stand out in the singer-songwriter genre these days with independent artists being able to create and release their music online. Morris stands out but is not head and shoulders above his peers. That being said I enjoyed the album a great deal and see myself playing it from time to time when I need pleasant background music.
Key Tracks: "Sidewind", "Landscapes", "Click of Your Watch #1"
Artists With Similar Fire: M. Ward / Josh Rouse / Elliott Smith
Cloud Recordings
-Reviewed by Matthew Heiner

Latest posts by Matthew Heiner
(see all)