Holy Ghost!


Dynamics
DFA Records [2013]



Fire Note Says: Holy Ghost! could use another exclamation point or two on the latest, Dynamics.
Album Review: Holy Ghost's sophomore LP, Dynamics, had a lot to live up to. While not universally fawned upon by the public, their eponymous debut had a lot of great moments and it was generally well-regarded. A band could put a lot of pressure on themselves to follow up a solid first outing, but Holy Ghost! doesn't appear to be daunted by the task. In fact, they play it loose and cool, which leads to a more even album. That also means that those great moments from before are few and far between on Dynamics.
Some background on Holy Ghost!: they are a duo from Brooklyn comprised of Nick Millhiser and Alex Frankel. They adhere to a synthpop sound and this album has a strong 70's feel to it (one track is titled "Dumb Disco Ideas"). While most of the tunes are uptempo they seem to drag in places. It's a paradox that I can't explain but perhaps has to do with the vocals. The singing is on-point from a harmony perspective but isn't executed with much energy. Even my favorite faster track on the album, "Dance A Little Closer," suffers a bit. If Holy Ghost! were going full 70's on Dynamics, they could have benefited from listening to more Bee Gees or Donna Summer.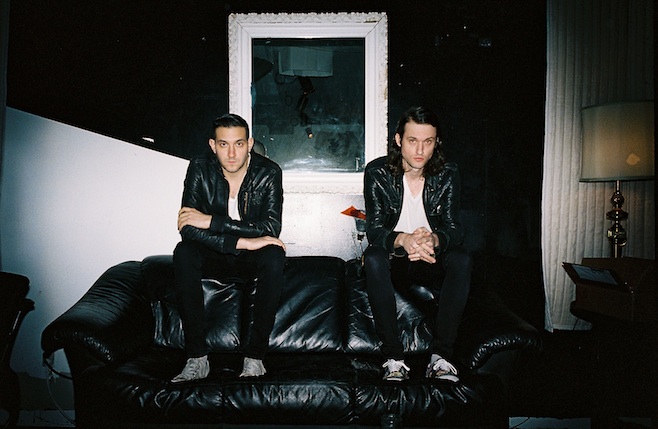 Oddly enough, two of the slower songs on Dynamics are two of the most effective. "It Must Be The Weather" and the enigmatically-named "I Wanna Be Your Hand" make up the climax of the album, situated in the middle of it. I prefer "It Must Be The Weather," which has an intensity that evokes 1980s synthpop stalwarts like Depeche Mode. The bridge to the chorus has a great vocal hook ("Think this fever's gonna break"). The lyrics speak to sleepwalking through the life and the tone of the track matches that desire to break out of the haze.
When I fired up Holy Ghost's new one, I was hoping for a high energy LP with some surprises (like "Some Children" off of the last album). What I found was a solid but slightly underwhelming collection of songs that perhaps played it too safe. That being said there's plenty to like, especially if you're looking for a groovy album to provide a mood, but doesn't demand too much attention.
Key Tracks: "Dance A Little Closer," "It Must Be The Weather," "I Wanna Be Your Hand"
Artists With Similar Fire: Moby / Cut Copy / MGMT

Holy Ghost! Website
Holy Ghost! Facebook
DFA Records
-Reviewed by Matthew Heiner

Latest posts by Matthew Heiner
(see all)