Gorillaz


Humanz
Parlophone/Warner Bros. [2017]


Fire Note Says: Cartoon urban, dance/rap-core band, Gorillaz return with a mix-tape for the apocalypse.
Album Review: Two cartoon bands come to mind: Gorillaz, and The Archies. Okay, The Monkees' four characters were definitely conceived as cartoon-esque two-dimensional stick figures, but as time developed they grew as individualized, even humanized themselves. While you can't say the same thing about Damon Albarn and J.C. Hewlett's cartoon creations that make up the pretend band of "post-apocalyptic youth," at least musically, Humanz may actually be the most human product of their 5-album collaboration (Gorillaz have released four albums commercially: the eponymous debut, (2001); Demon Days (2005); Plastic Beach (2010); and, this latest collection. The Fall was also released in 2010 as a download only through the band's fanclub.).
Which is to say, that although the seven-year-old project Plastic Beach felt more like an artistic whole with its eco-friendly expressions wrapped up in the album's conceptual shaping, here on Humanz, Albarn and his many collaborators express a more exuberant and less focused vision this time around. In other words, the 16 diverse songs that make up the release, feel as though they are as pulling us in as many different directions as they can. What is constant, is Albarn and his studio cohorts love of deep groove, and trust in their collaborators to develop moving and evocative melody lines. And it works.
The funniest interlude here is performed by comedian Steve Martin, but sounds a lot like a Monty Python riff in the movie "The Life of Brian" shortly after his mother asserts that "he's not the messiah, he's a very naughty boy." In the movie, Brian preaches to the crowd who has followed him home, "You're all individuals," to which the entire crowd echoes back his words, and then one poor guy raises his had to say, "I'm not." For the Gorillaz "Non-Conformist Oath," the crowd all commits simultaneously to be "different" and "unique." The joke is on a culture that is shaped by a compelling desire to fit in, and be like everyone else.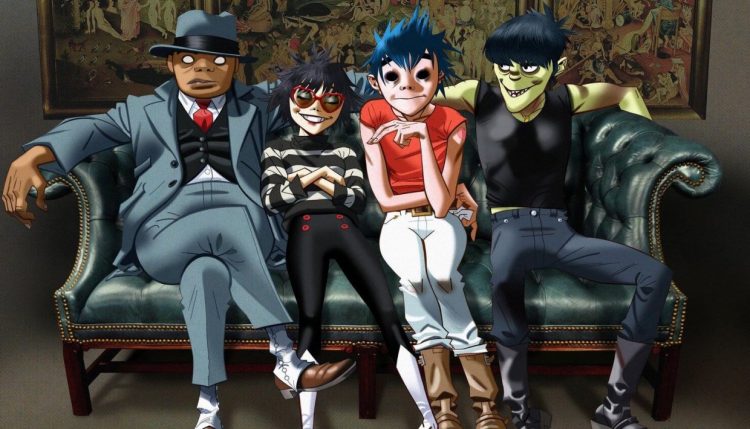 But here, the resulting collective work feels pretty much like a party mix-tape for a private club just off one of the main business strips in the movie, "Blade Runner," where citizens escape to hit the dance floor and forget the craziness of life in their all too real world. Still the politics of freedom continues to inform their activities, as the songs seek to liberate these many humans whose inner longing is to walk free, and not settle for being mere replicants, inhuman shells for consumer-driven droids.
"Ascension," gives Vince Staples a chance to play on words as he repeats the mantra of "drop that ass 'fore it crashes," while "Let It Out" finds "Momma" Mavis Staples framing the Pusha T's rap verses with a dance floor chorus that encourages one be ready to face the changes that are coming. Individual standouts include another De La Soul collaboration on "Momentz;" "Submission" with soul singer verses by Kelela and a bridge rap by Danny Brown; a haunting Grace Jones vocal on the funky "Charger;" "Andromeda" with Albarn, strangely enough, singing on his own record in duet with D.R.A.M.; an unexpected ballad also sung by Albarn, "Busted and Blue;" "She's My Collar" a bouncy techno dance number; and the closing anthem, "We Got the Power" which affirms our ability to "love each other no matter what happens." A word of hope against the cultural backdrop of war and hate, waiting just outside the club door, that suggests otherwise.
Now, a new Gorillaz project after 7 years seemed unlikely. Albarn released a solo album in 2014, Everyday Robots, then regrouped with his Euro-pop rock band Blur, to release The Magic Whip in 2015. And speaking of Blur, there was a long time public battle between Albarn and Oasis' Noel Gallagher, which apparently has been resolved since Gallagher sings background vocals on "We Got the Power," although the dominant voice on the track is Jehnny Beth of the band, Savages.
So, the risk is clear, if we lose love, if we forfeit our power, our ability to dance in the face of an inhumane rule, we might also lose our most treasured reality, our identity as human. And frankly, "Sugar Sugar" by The Archies will not do. Gorillaz have acted in our favor, they've established a rebel alliance on the dance floor, the question is will we join them as we should?
Key Tracks: "Andromeda" / "We Got the Power" / "Ascension"
Artists With Similar Fire: Beck / Gnarls Barkley / N.E.R.D.

Gorillaz Website
Gorillaz Facebook
Warner Bros. Records
– Reviewed by Brian Q. Newcomb
Latest posts by Brian Q. Newcomb
(see all)