Felsen


I Don't Know How To Talk Anymore
Self-Released [2013]



Fire Note Says: Felsen will keep you hooked on their DIY fourth record.
Album Review: When Oakland's Felsen declare that rock and roll is not dead on the opening track of their fourth album, I Don't Know How To Talk Anymore, you take notice because let's face it – we all would be crushed if it was. Lucky for us, guitarist Dylan Brock, singer/guitarist Andrew Griffin, bassist Cristian Hernandez and drummer Art McConnell take matters into their own hands by offering a very low key and fresh style of pop rock that has catchy hooks, interesting lyrics and plenty of memorable riffs to keep you coming back.
I Don't Know How To Talk Anymore is just one of those albums that you hear and it sinks in. This is especially true if your normal music "likes" lean towards past bands like early Fountains of Wayne, Superdrag, or the Gigolo Aunts which all don't have many frills or tricks to their music but just straight up guitar rock. This sound will most certainly lose some of the younger audience out there because I think it is a lost art in the current music scene. The ability to incorporate deep lyrics like in "Gunfighting At Dawn" (which is about Katrina) and still create a memorable chorus is not an easy task but Felsen perform it throughout the record flawlessly. On the title track, Felsen sum up our current communication issues with the line "I'm afraid of conversations, I'll text you and try to explain" which nails it with its steady state mid tempo rock that bursts out at the song's conclusion. Other tracks like "Tokyo Electric", "Lorazepam" and "All You Gotta Do Is Smile" have no problem giving the listener plenty of foot tapping drums, soaring choruses and lots of sing along moments.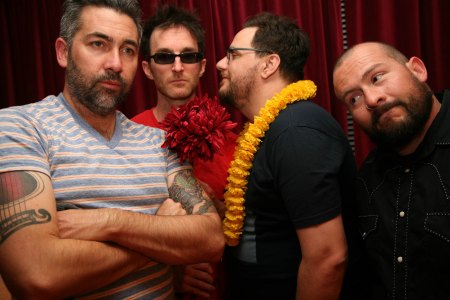 Felsen succeed on I Don't Know How To Talk Anymore because they let songs evolve, allow small guitar solos, are not afraid to let tracks pass the four minute mark and most of all – keep the listener engaged with smart lyrical tales. It is a laid back record that shows off Felsen's experience while being a great example of how a group can record, mix and produce an album themselves for positive results. I am not saying that Felsen will change your life but if you give I Don't Know How To Talk Anymore several legitimate listens I guarantee it will hook you. I also imagine that these songs will play great live as Felsen represent DIY done right!
Key Tracks: "Rock And Roll's Not Dead", "I Don't Know How To Talk Anymore", "Lorazepam"
Artists With Similar Fire: Gigolo Aunts / Fountains Of Wayne / Fastball
Felsen Website
Felsen Facebook
– Reviewed by Christopher Anthony

Latest posts by Christopher Anthony
(see all)