Calexico


The Thread That Keeps Us
ANTI- [2018]


Fire Note Says: Arizona's Calexico offers up alt rock anthems and eclectic musical ruminations on the world at risk and the love that will sustain us in "the age of extremes," on their ninth album, The Thread That Keeps Us.
Album Review: The ninth album from Arizona-based Calexico is yet another artful collection of stories told with the band's eclectic musicality and a mature songwriting sensibility that shows up primarily in strong, impressive melodies. Rooted in the long collaboration of singer/multi-instrumentalist Joey Burns and drummer John Convertino, and favoring a playful mix of alternative rock, Americana, Tex-Mex Latin and World music influences, Calexico has stepped up on this new effort to create of statement of hope and "love in the age of extremes" (from the song "End of the World With You"), even as they acknowledge that "the world is falling apart" and some are ground "Under the Wheels (of the war machine)."
Something I didn't expect is how much singer Burns sounds like Neil Finn of Crowded House on songs like "Bridge to Nowhere" and "Girl In the Forest." And once you hear it there you hear it in the mature pop leaning songs like "The Town & Miss Lorraine" and elsewhere. True to form, Calexico still has it's mix of Latin musical sounds, most notably here on "Flores Y Tamales," which is sung by and co-written with Jairo Zavala in Spanish, and features the trumpets of Martin Wenk and Jacob Valenzuela. There's plenty of the band's usual sonic experiments, like the mix of jazzy horns on "Another Space," which is followed by the more traditional Latin folk feel of the brief instrumental "Unconditional Waltz.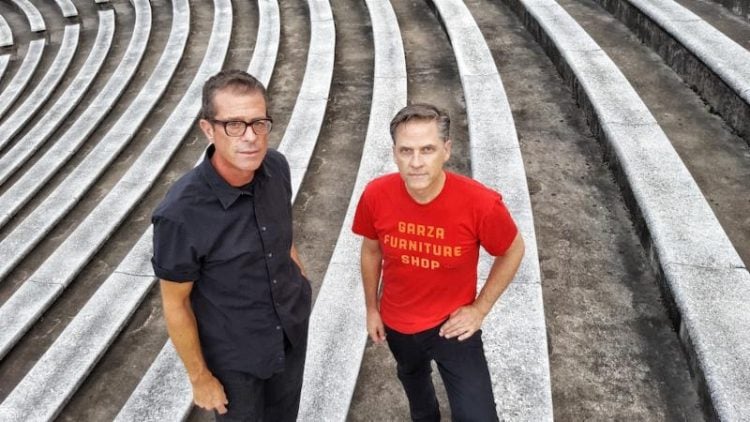 There's a sense of foreboding in the rather apocalyptic world of the opening alt rock track, "End of the World With You," which turns a painful corner in the harder riff rock of "Dead in the Water," and the underlying threats to the environment, to the political order, to individuals struggling to get by get the attention they deserve in the album's most chaotic song, "Eyes Wide Awake." The bleak reality of a world at risk comes through the lyric "home's waiting like a motherless child" in "Thrown to the Wild," which expands musically to embody that sense of loss and dread.
But, as I said at the top, for all the awareness of brokenness and desolation, The Thread That Keeps Us is the hope and love that sustains us even in "extreme times," which shines through here and there on the record but is crystallized most clearly in the closing track, a ballad written from a father to his daughter, "Music Box." It contains the promise that "when the world goes dark/I'll always be close by/to hear your dreams unfold/hold you when you cry," as if to say that we'll keep on keeping on, going up against the chaos, if for no other reason than to make sure the world is here for those who will follow us.
Key Tracks: "End of the World With You" / "Bridge to Nowhere" / "The Town & Miss Lorraine"
Artists With Similar Fire: Iron & Wine / Crowded House / Ryan Adams
Calexico Website
Calexico Facebook
ANTI-
– Reviewed by Brian Q. Newcomb
Latest posts by Brian Q. Newcomb
(see all)