Buffalo Killers


Ohio Grass
Alive Natural Sounds Records [2013]


Fire Note Says: This 6 song Record Store Day release captures the essence of Cincinnati's Buffalo Killers.
Album Review: The Buffalo Killers have been perfecting their warm classic rock sound over their last several albums which hit a high point on last summer's fourth full length Dig. Sow. Love. Grow.. The band quickly returns here with this six song EP, Ohio Grass, that shows that they have not lost one step and once again showcases their confident songwriting, playing and memorable melodies.
"Somebody, somebody better start prayin' for me" is the acappella line that kicks off the EP's first track, "Baptized", right before the strong guitar riff and drums kick this track into gear. It is a song that gives you a sense of what the Buffalo Killers live show is like as the trio smolders right to its finish. "Grow Your Own" has a deep pulsing bass running through its undertone which is perfect for foot tapping or head nodding. The track has a slight jam band vibe to it as it lets the guys just play their instruments in unison and focuses less on the vocals as they play a more supportive role. The gentle wave of "Golden Eagle" fits the title Ohio Grass with its slight reggae rhythm and its solid subtle guitar playing as its background vocals just hum along. The track is the longest on the record at over 5 minutes and is very easy to get lost in as it feels like it could drift on forever. The best part is – you wish it would!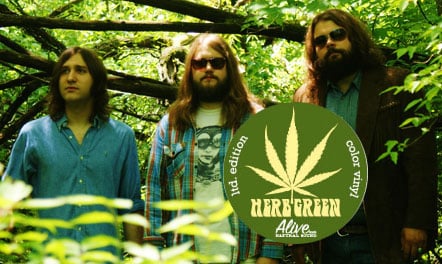 That brings us to the EP's closer, "Some Other Kind", which blends a Beatles-esque type vocal with a start and stop instrument explosion that gives the otherwise mid-tempo number an edge that has not really been heard on a Buffalo Killers record before. It is a new avenue for the band that really works well into their strengths and I would love to hear the style expanded on a future full length because the song gets in your head and sounds better after each spin.
Ohio Grass is probably one of the more unknown Record Store Day releases to the masses this year but will rank up there with one of the best. The Cincinnati group keeps evolving into something bigger and with their last several releases they have established themselves as an act to follow. Ohio Grass is well thought out, will thrill longtime fans and has the Buffalo Killers timeless appeal that will make this album shine for Record Store Days to come!
Key Tracks: "Some Other Kind", "Baptized", "Golden Eagle"
Artists With Similar Fire: Cream / My Morning Jacket / Radio Moscow
Buffalo Killers Website
Buffalo Killers Facebook
Alive Natural Sound Records
-Reviewed by Christopher Anthony

Latest posts by Christopher Anthony
(see all)