Blank Realm


Grassed Inn
Fire Records [2014]



Fire Note Says: Blank Realm's breezy second album Grassed Inn is warm and inviting.
Album Review:
The latest addition to the If-Not-For-The-Vocals All Stars is Blank Realm. The four-piece from Brisbane, Australia released their debut Go Easy last year. Their follow-up Grassed Inn is more disciplined and focused on lo-fi guitar pop in the style of late Big Star or early R.E.M. Contemporary comparables include Scott & Charlene's Wedding and to a lesser extent The War on Drugs. Blank Realm's members are Daniel Spencer (vocals and drums), Sarah Spencer (synth and vocals), Luke Spencer (bass), and Luke Walsh (guitar). Yes, the first three named are siblings and the band's cohesiveness make it sound like it's been playing together for a long time.
Let's start the review with the best of the eight tracks: "Bulldozer Love." At almost nine minutes it's by far the longest track on Grassed Inn. It takes its time to set the tone with an instrumental intro of more than a minute. A simple verse and chorus follows (with nice harmony between Daniel and Sarah) and then the hazy guitar riff takes back over. It's refreshing to listen to a song that is patient and rewards the listener for that same patience. "Bulldozer Love" raises the stakes with each minute by adding a new flavor (e.g. increased pace or volume). At six minutes in the song takes off and finally nails the difficult landing two minutes later.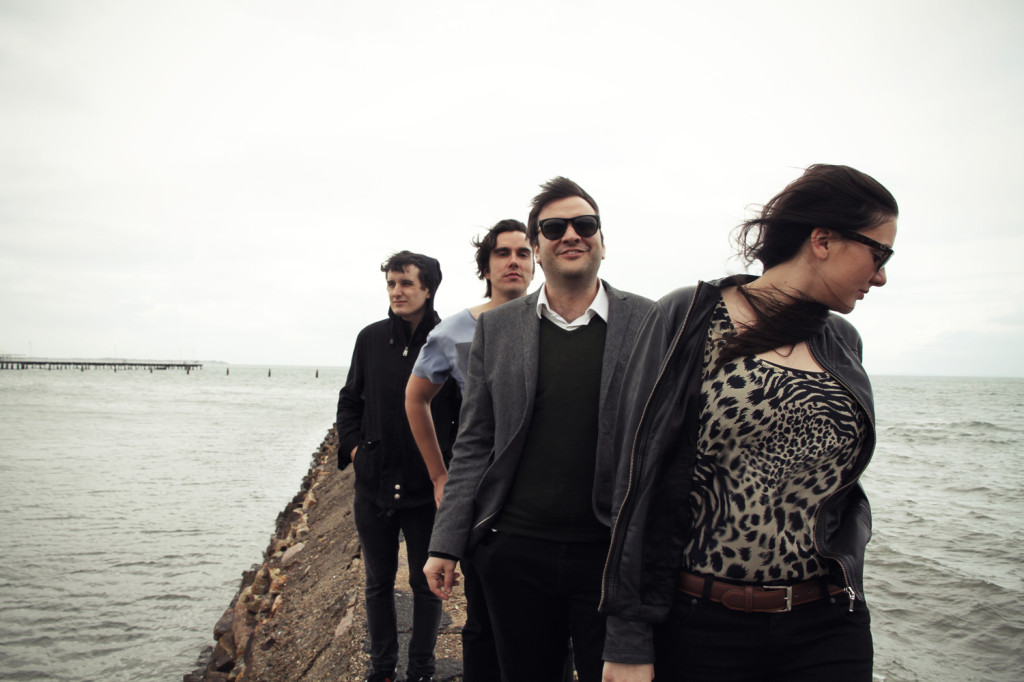 Now about those vocals. Daniel Spencer's voice sounds like he is evoking Bob Dylan. I'm not a huge fan of Dylan's voice and I therefore wonder how Blank Realm would sound live. The song construction and harmonies are on point; the variety of styles keep the album fresh and attentive; the lyrics are serviceable. But the vocals keep this album from being extraordinary. The opening moments of Grassed Inn's opening track "Back To The Flood" are so promising, and the song still rocks, but I was disappointed when the vocals kicked in.
My last favorite track here is "Baby Closes The Door" which is the track that gives in to Blank Realm's psychedelic side. It kinda sounds like what Bryan Adams woulda put out in 1984 out if he had dropped acid in the studio. Ambient noises flicker and fade as Daniel intones "Baby closes the door" until the song fades into the trippy "Even The Score."
Sometimes a band rubs you the wrong way for an arbitrary reason. While this has happened to me with Blank Realm I still really liked Grassed Inn and recommend it. This speaks to the quality of the music and unique style the band plays. For fans of Dylan, Big Star, or REM, Blank Realm is a band to keep on your radar.
Key Tracks: "Bulldozer Love," "Back To The Flood," "Baby Closes The Door"
Artists With Similar Fire: Scott & Charlene's Wedding / The War on Drugs / Echo and The Bunnymen

Blank Realm Facebook
Fire Records
-Reviewed by Matthew Heiner

Latest posts by Matthew Heiner
(see all)