Big Eyes


Stake My Claim
Don Giovanni Records [2016]


Fire Note Says: Big Eyes is ready for prime time!
Album Review: In recent years, female fronted rock has had its rightful place on the indie scene with quality bands like White Lung, Speedy Ortiz, Ex-Hex, The Splits, Bleached and Hop Along to just name a few. Well, like they say – there is always one more seat at the bar and the seat saver goes to the third LP from Brooklyn's Big Eyes.
This 10 song 24-minute rocker titled Stake My Claim is a great combo of classic rock riffs and pop punk hooks that has swagger and attitude just busting out from all of its edges. This brashness starts from lead singer Kait Eldridge and her slightly roughed out Joan Jett vocals which take command of each song. Followed by the big guitar that rattles the tracks on Stake My Claim there is plenty else to like here as the record never goes full punk throttle but also never simmers. The foot tapping pop that is found in "When You Were 25" is unforgettable, as the track wins you with its layered backing vocals, small guitar solo, and Eldridge's snappy delivery. The under 2-minute slower burner "Just Not Right," finds a relationship going south with no good ending in sight as Eldridge admits upfront, "it takes a lot of guts to try and change my mind." There is a driving riff that sweeps the track along which is a winning formula for Big Eyes throughout Stake My Claim.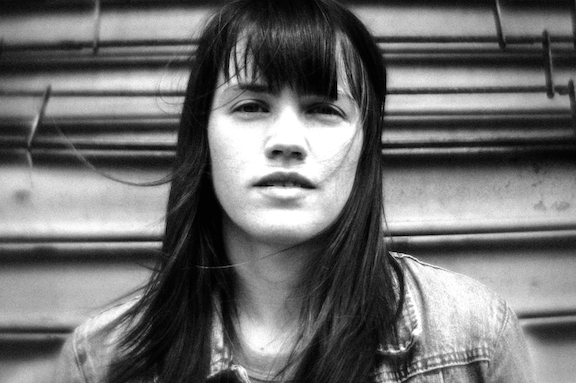 With a past big guitar sound of groups like L7 and The Gits, Big Eyes bring those components forward with a fresh perspective on Stake My Claim. The record is catchy, strong and memorable as it has a very high replay value. Its balance of pop, punk and rock is well blended till the end as Kait Eldridge is clearly a new force on scene to be reckoned with. Stake My Claim may be the third LP from Big Eyes but for Kait Eldridge – I think it could be a spectacular beginning!
Key Tracks: "Just Not Right" / "When You Were 25" / "Alls I Know"
Artists With Similar Fire: The Muffs / White Lung / The Donnas
Big Eyes Website
Big Eyes Facebook
Don Giovanni Records
– Reviewed by Christopher Anthony

Latest posts by Christopher Anthony
(see all)