Bettie Serveert


Oh, Mayhem!
Second Motion Records [2013]



Fire Note Says: Indie vets look to re-establish themselves, and Oh, Mayhem! is a perfect reintroduction!
Album Review: With their first two records, Palomine (1992) and Lamprey (1995) both on Matador Records, Dutch band Bettie Serveert laid out a sonic blueprint that later bands such as the Yeah Yeah Yeahs and Sleater-Kinney, used to construct their early sound. Built primarily on the punk fury of Peter Vissar's guitar work and the powerful vocals of Carol van Dijk, Bettie Serveert has now been at it for over 20 years, and with their new album, Oh, Mayhem!, the band shows no sign of letting up or slowing down.
Right off the bat, you know you are going to be in for a treat. "Shake-Her" sounds like a poppier take on Sleater-Kinney, complete with strutting guitar lines and a wonderful stop/start dynamic that makes you take notice immediately. The chorus of the song isn't quite as strong as the verses on the track, but that's because the verses are so dynamite. This is catchy, punky guitar pop, and is a remarkable showcase for van Dijk's vocal prowess. "Had2BYou" is a wonderful two and a half minute pop song that should be a hit, but most likely won't. Here the band beats more popular current acts like Best Coast at their own game, using 60's influenced harmonies and matching them up to more modern guitar pop. The effect is quite stunning. They follow "Had2BYou" with "Tuf Skin" which is unquestionably the most rocking tune on the record. Here the band whips up a sonic fury seldom matched by younger contemporaries. The vocals call to mind Karen O, but the music itself is unquestionably all Bettie Serveert, punk fury with an undeniable pop edge, always loud, yet always catchy. "Receiver (Alternate Version)" is yet another rocking highpoint on the record.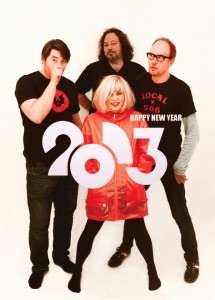 It's impressive to me that a band that has been around as long as Bettie Serveert can still sound so hungry. They probably won't ever reach the heights of their mid 90's fame when they flirted with major label and mainstream success, but they sound like a band that is looking to re-establish themselves in the indie world, and Oh, Mayhem! is the perfect record to serve as a reintroduction to this great band.
Key Tracks: "Had2BYou", "Tuf Skin", "Receiver (Alternate Version)"
Artists With Similar Fire: Wild Flag / Yeah Yeah Yeahs / Superchunk
Bettie Serveert Website
Bettie Serveert Facebook
Second Motion Records
-Reviewed by Kevin Poindexter

Latest posts by Kevin Poindexter
(see all)