Alanis Morissette, "Jagged Little Pill 25th Anniversary Tour", w/ Garbage, and Cat Power: Riverbend Music Center; Cincinnati, OH; Wednesday September 15, 2021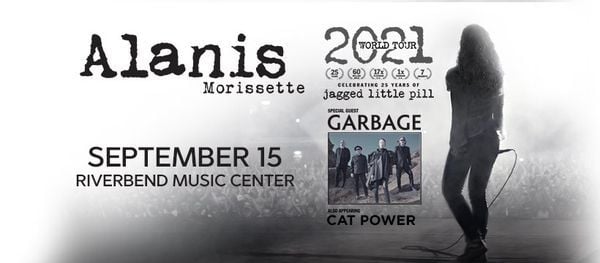 When Alanis Morissette finally hit the stage on Wednesday night you would have a hard time remembering that 26 years had passed since the release of her "Jagged Little Pill" as she paced the stage with long strides like a mall-walker with an urgent need to get in her steps, blowing a harmonica as the band played the intro to "All I Really Want." Before her hurried entrance, we'd been treated to a 5 minute fast-paced video montage that included her many TV and movie performances, which included her appearance in the film "Dogma" as God herself, SNL skits, one with Jimmy Fallon singing "You Oughta Know," and news clips about her career. As she sang, with a film of BLM and other protest marches on the large screen at the back of the amphitheater stage, two things became immediately evident. First that this woman, only 21 years old when she released the breakout album this anniversary tour was celebrating, has an amazing voice, it's a robust and soulful vocal instrument; her mezzo soprano tone is so rich and strong that she often has to hold the microphone 2 feet from her mouth to avoid overdriving it.
And secondly, "Jagged Little Pill," represents a huge cultural moment—selling 16 million copies in the U.S. alone and twice that world-wide, launching six airplay hits that kept it near the top of the Billboard album sales chart for more than a year, and making it the second best-selling album by a female artist, period—so the fans who filled Riverbend's seated pavilion and lawn knew it backwards and forwards, and they came to sing. The people around us, and for as far as the eye could see, were all singing out as soon as Morisette started the first song, and they were so loud and engaged on the second song, "Hand in My Pocket," the Morissette appeared to forget the words to one of the verses, only to have the crowd sing it back to her. Then playing the third single from that monumental release, "You Learn," Morissette added a mention of her two youngest children, "a five-year-old and a two-year-old."
Morissette and the band played a brief intro from "Hands Clean," before sliding into "Forgiven," this time the film on the back wall showed images of church windows, and a young black female dancer in the aisle of a sanctuary. In a similar fashion, "Everything," led into "Mary Jane," a song about a woman struggling with many of the issues Morissette has confronted on her journey. This was played on finger-picked acoustic guitar, with Morissette holding the song closing note for a long time for emphasis. As famous as Morissette is, her public life an open book since her childhood TV work meant she pretty much grew up in the tabloids, the audience had already been introduced to her pet causes and concerns via the billboard like announcements on the venues big screens before she came on: mental health and depression, female body image ailments, post-partum depression, battling misogyny, and an organization to get more women involved on the creative end of the music business as recording engineers and producers. And on cue, a brief bit of "Diagnosis" led into "Reasons I Drink," with an AA meeting playing out on the video screen.
At this point, Morissette who didn't feel the need to speak at the crowd of her fans, announced that it was one of her guitarist's birthday, so the entire audience sang "Happy Birthday" to Jason. Which she followed with a brief interlude of "So Unsexy" to get us in the mood for "Ablaze," a song from her recent 2020 release, "Such Pretty Forks in the Road," which is written to her children and was performed with home videos of children running behind the band. Following a snippet of "Nemesis," Morissette returned to the album of the evening for "Perfect," again holding notes out for emphasis, especially at the end. As the night progressed, it was hard not to be impressed both with Morissette's stamina and her powerful voice, as she often vamped and vocalized throughout the set, and while she was backed by a very capable band of musicians most eyes stayed on her, as she moved energetically around the stage from one side to the other, pausing occasionally to drink from a water bottle. "Wake Up," which builds from a quiet piano ballad intro from "Losing the Plot" to the dramatic rocker, which noticeably included the evening's first real extended guitar solo from the player who was not Jason, with Morissette shouting at the end to the protagonist to "get the fuck out of here."
With the uptick in musical energy on that one, you could feel the rise in excitement as things continued to build to the concert's climax. "Not The Doctor" provided some initial angsty anger on the choruses and this time the birthday boy Jason took a guitar solo. As the band played to opening of "Ironic," which technically was the biggest airplay hit from "Jagged Little Pill," even though actually the fact that it rains on your wedding day is not actually an example of irony, although a woman meeting "Mr. Right" and then being introduced to his husband, would appear to be closer to the definition. But accuracy be damned, the fans of Morissette and that album needed a bit of emotional catharsis and having nearly 20,000 fans singing out the lyrics of this barnstormer was exactly what this crowd paid to be a part of. Morissette followed with her most recent single, "Smiling" from her latest album, but the moment everyone was waiting for is the queen of angsty angry songs, "You Oughta Know," with it's great guitar riff and big vocal hook. The original was recorded by Flea and David Navarro from the Red Hot Chili Peppers, assisted by Morissette's producer Glen Ballard, and on this night the singer and her band gave their all to the moment, the currently blonde Morrissette whipping her long hair and spinning like a whirling dervish. Only to wave a thank you and run off the stage at its completion, her band quickly following her.
For the encore, Morissette went to the singles that immediately followed her success with "Jagged Little Pill," the first from the soundtrack to the film "City of Angels." "Uninvited" opens quietly on piano, and gently builds like so many of Morissette's songs, but his one has a killer nearly metal guitar hook that she and her band took full advantage of, the singer whipping her long blonde hair like an 80's hair metal band at the song's musical climax. Then saying "this one's for you," Morissette performed the folk pop of "Thank U," while emails from her fans saying things they are grateful for played on the back wall. Given Morissette's major hits come from the 90's, one could easily forget was a force of nature she is both as a singer and performer. Her endearing way of pulling her head back and to the right as her voice gets louder on many of her songs, her genuine appreciation for her fans and her own survival and currently satisfying family life, makes her genuinely appealing. And she has the songs to back it up.
Morisette's Special Guest on this Anniversary tour, delayed over a year by the pandemic, was the band Garbage, fronted by Scottish front-woman and vocalist Shirley Manson, who in a shout out of gratitude for being out on the road opening this tour, remembered that they had also toured together back in the 90's. As such Garbage delivered a sterling 12 song set of their unique brand of techno and punk infused rock and roll, offering up the title track from their 2021 release, "No Gods No Masters," and went all the way back to their self-titled 1995 debut for songs like "Vow," "Stupid Girl," and the set closing pop sing-along, "Only Happy When It Rains."
Manson took a few moments here and there to share how great it felt for her band to back out playing for people, assuring the crowd that it meant as much to them as it did to the fans. She was charmed having grown up in Scotland to be performing in the exotic city of "Cin-cin-nati," a word she enjoyed repeating, but saying Americans wouldn't understand because we live in a great big wide-open country, and she said, "I grew up on an island." Her band rocked with intentionality throughout, with drummer Butch Vig triggering some sequenced synth loops, but kicking the rhythm with a solid rocking beat, while guitarists Duke Erikson and Steve Marker grind up some serious noise and occasionally add keyboard touches when needed, they are joined by touring bassist Eric Avery who helped lock down the groove. But Manson really steals the show with her aggressive presence and solid vocal delivery. Manson did also offer up her own brief version of "Happy Birthday" to Morissette's guitarist Jason, and gave a shout out to the woman who had waited on the band at a restaurant the night before, but the band was at more at home in its strengths, delivering "Wicked Ways," which included a brief aside into Depeche Mode's "Personal Jesus," and "Push It," both from the album, "Version 2.0." During that last song, she repeated the phrase, "I'm a mother-fucking self-serving bitch," perhaps something someone had once said to her, but she seemed just lovely to me.
To be honest, when I sat down at my computer to shell out major concert ticket money for this show, a big part of the draw was the inclusion of Liz Phair on the original bill; it just seemed like a stellar idea to package those three strong female rockers on the same bill. But lack alas, Phair pulled out of the tour about a month before the shows kicked off, and was replaced by Cat Power, the so-called "queen of sadcore." The folk singer performed solo, and the large outdoor amphitheater stage didn't serve her music well, she would have faired far better in a venue like a coffeehouse or local bar. She strummed and electric guitar through 4 songs, one was supposedly a cover of Keith Richard's "(I Can't Get No) Satisfaction," but it was unrecognizable to those of us halfway back in the pavilion seats. And it wasn't any better when she moved to the piano. It could have been a sound man issue, but everything sounded the same, and most of the words she sang were indistinguishable, and we were trying to listen.
Latest posts by Brian Q. Newcomb
(see all)