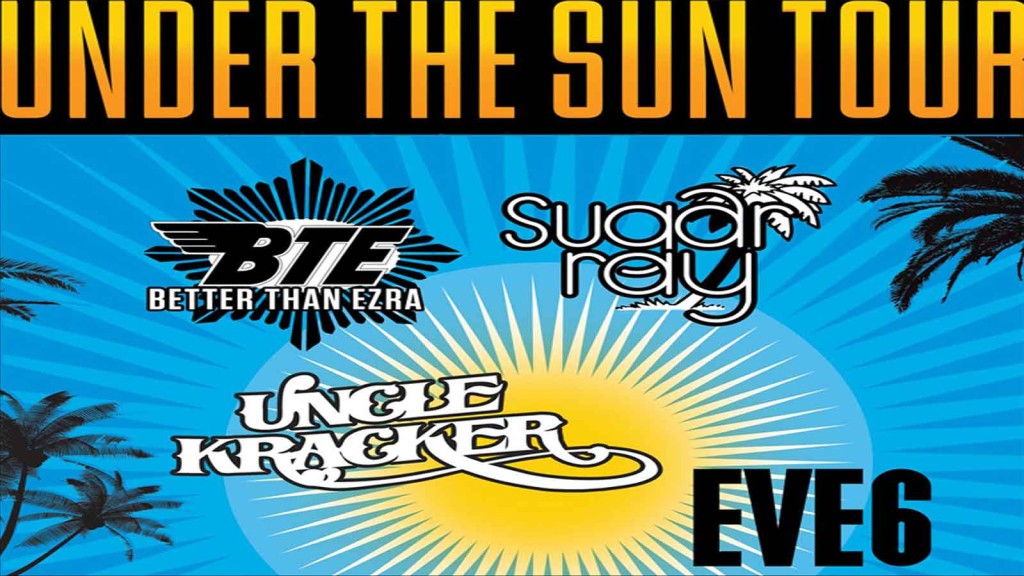 Alright. So it would be super easy to dismiss the Under The Sun tour completely. You get Sugar Ray, Better Than Ezra, Uncle Kracker and Eve 6 for a night of 90s/00s alt rock singles that most of us know by heart if you lived through that era. I am sure to some that may sound dreadful and to some I say – I hear you.
With that said, let's break down the wall some and let me give you some reasons this tour will be fun to check out when it hits a town near you.
Sugar Ray:
"Mean Machine" – Before there was "Fly," "Every Morning," and "When It's Over" there was Sugar Ray's 1995 debut Lemonade and Brownies. The record showed the bands influences from hip-hop, metal and punk which is why "Mean Machine" is still one of my favorite songs from the mid-nineties era. They are playing a shorter set list with four bands on the bill but try shouting it out for them to play it – it will be worth it.
Mark McGrath – McGrath is a showman. Forget that he was the host on Extra, was on Celebrity Apprentice and appeared in Sharknado 2 because he knows how to work a stage and wants the audience to have a good time. I saw Sugar Ray at the Indy Summer Stages in 2002. I admit that I didn't go out of my way but they were a headliner so I checked them out. McGrath made the night and kept me for the entire set. He has a new EP coming out that you can check out HERE.
The Songs – They are catchy and you wouldn't believe how many Sugar Ray songs you know. They also work in the summer setting which includes beverages!
Better Than Ezra:
Deluxe Debut – I actually have a copy of Deluxe on Swell Records from 1993. Elektra re-released the record in 1995 and helped "Good" take off. This is still the best record in their catalog.
Live – I saw these guys in a laundry mat early on and lead singer Kevin Griffin put 110% into the small show. A bigger stage will be a good fit as they have some hits you will definitely recognize and maybe even a James cover. Better Than Ezra currently is supporting their 2014 record All Together Now.
Uncle Kracker:
History – Best known from his early days as Kid Rock's turntable DJ in Twisted Brown Trucker. Uncle Kracker, aka Matthew Shafer, broke away from that scene and stepped out with a singer/songwriter approach.
Popularity – Uncle Kracker has Platinum and Gold records, top 10 singles and has received plenty of airplay over the years. Personally, I don't have much experience with his music outside of the singles but he fits in on this bill just fine.
Eve 6:
History – Eve 6 have one of the best major music label stories in the business. The group was signed to RCA before they were out of high school and actually received some artist development when that was a thing.
"Inside Out" – Still a great tune from their 1998 self-titled debut. Eve 6 was a solid alternative rock band from the beginning and this song shows it.
Lineup – The band will be playing with all three of its original members. Anymore with some of these tours and bands that is something plus will only help when it comes to delivering the tunes live.
Sure this tour may not contain the latest indie rock stars but it will supply plenty of quality alt rock, nostalgia for all of us elders and for sure an overall good time. Check your snobiness at the door and have fun with the Under The Sun Tour 2015.
All the remaining dates are listed below starting with Tuesday night in Dayton, Ohio:
8/4 – Kettering, OH – Fraze Pavilion
8/6 – Clarkson, MI – DTE Energy Music Theatre
8/7 – Columbus, OH – LC Pavilion Outdoor Amphitheatre
8/8 – Clearfield, PA – Clearfield County Fair
8/9 – Pittsburgh, PA – Stage AE-Outdoors
8/10 – Grand Rapids, MI – Meijer Gardens
8/12 – West Allis, WI – Wisconsin State Fair
8/14 – Hinckley, MN – Grand Casino Hinckley-Amphitheatre
8/15 – Kansas City, MO – Kansas City Live!
8/18 – Highland Park, IL – Ravinia Festival
8/20 – Vienna, VA – The Filene Center
8/21 – Asbury Park, NJ – Stone Pony Summerstage
8/22 – Philadelphia, PA – Xfinity Live!
8/23 – Bethlehem, PA – Sands Casino
8/24 – Huntington, NY – The Paramount
8/26 – Atlanta, GA – Chastain Park Amphitheatre
8/28 – Raleigh, NC – Red Hat Amphitheatre
8/29 – Nashville, TN – Ascend Amphitheatre

Latest posts by Christopher Anthony
(see all)