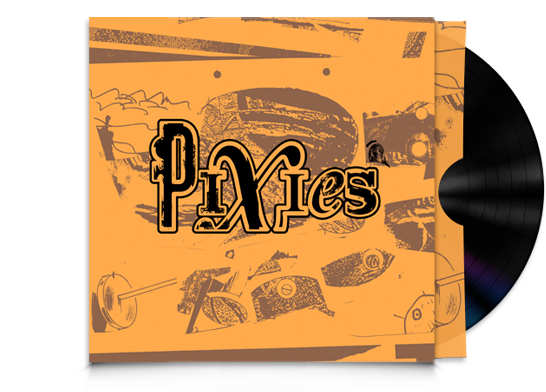 The Pixies have confirmed details of their first studio album since 1991's Trompe le Monde. Released in late April (23 April in Japan, 28 April in UK/Europe and 29 April in North America), Indie Cindy will be made available via the band's own independent label, Pixiesmusic.
The album will be available on CD in a deluxe 40-page hardback book with CD of album and live 13 track CD recorded on this years World Tour (3,000 copies worldwide) or vinyl on a double 180-gram 12-inch vinyl, 4 tracks per side, single gatefold. The deluxe artwork for both versions were designed by Vaughan Oliver.

The 12 cuts on Indie Cindy were produced by Gil Norton, producer of the band's classic Doolittle, Bossanova, and Trompe le Monde albums, and recorded during October 2012 at Rockfield Studios in Wales, UK. The various packages feature a collection of brand new artwork by the legendary graphic artist Vaughan Oliver who created the artwork for all of Pixies' previous releases.
The album is comprised of "Bagboy," the band's first new song in more than a decade, the eight tracks from the band's EP-1 and EP-2, released September 3, 2013 and January 3, 2014 respectively, plus the three new tunes from the just-released EP-3 – all written by the Pixies – Black Francis/vocals, guitar; Joey Santiago/guitars; David Lovering/drums, backing vocals.
With EP-1, EP-2 and now EP-3 having been available only in digital and limited-edition vinyl formats, Indie Cindy will mark the first time fans can have all of the new Pixies music in one collection.

Latest posts by Christopher Anthony
(see all)