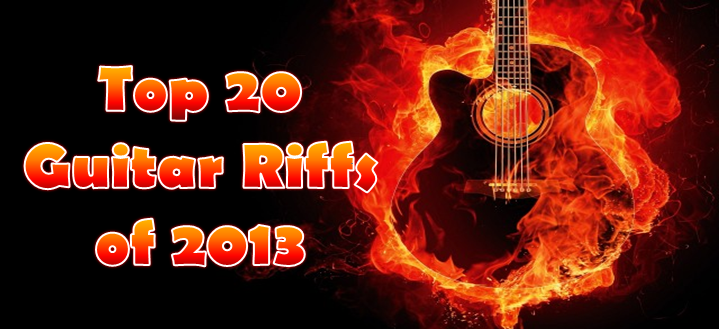 The Fire Note never claims to know all about the mighty guitar riff but we've given a listen to plenty of albums this year. I'm even sure there are some riffs that happened to slip through the cracks but we did our best to efficiently scour the 2013 releases.
Hours went into listening from Deafheaven to The Melvin's, Kvelertak to Queens of the Stone Age, Pissed Jeans to Pursons, Ty Segall to Beach Fossils, and Buffalo Killers to Black Joe Lewis. All riffs were evaluated at the highest level. I think after almost having our ears bleed we have ended up with a solid list!
Without any more delay – turn it up and check out The Fire Note's definitive top 20 riff of 2013.
#20
"All Returns"


Wolf People

From the ascending notes of the intro to the thinly veiled seventies-inspired riffs in the song's main body, Wolf People can always be counted on for some good old fashioned English folk-rock re-visitations. It's like every part of their songs is pulled from a different classic rock artist of yore. What's that? Wishbone Ash? Jethro Tull? Whatever. I'm playing air guitar to it right now.
#19
"Blood Like Cream"


Red Fang

Having just reviewed their latest album, Whales And Leeches, I've had this one stuck in my head for a few weeks now. That's when you know. There's no magic formula for this sort of thing – either it rocks or it does not rock. This one does indeed rock!
#18
"Last/Lost"


Coliseum

Punk bands can utilize guitar lead patterns within a song's framework too – although clearly not as often as most metal bands. Here's an example from Louisville hardcore band, Coliseum, taken from their Sister Faith LP. Notice how simple the riff is which, when played at tempo, sounds really powerful. Let that be a lesson to all aspiring songwriters: less is more!
#17
"Poison Apple"


Uncle Acid and the Deadbeats

UK doom rockers Uncle Acid And The Deadbeats take early Black Sabbath riffs and add layers of Stooges-like slime to create some really memorable stuff. On their third album, Mind Control, they continue down the same path. There are so many great guitar pieces that I wasn't sure which track to highlight here but "Poison Apple" was chosen, in part, because it made me think of Sabbath's Vol. IV album and that's a very, very good thing.
#16
"Castlestorm"


ASG

Playing off the same fury possessed by many riff based metal bands of today-The Sword and Mastodon for example. ASG's "Castlestorm" has everything: adrenaline pumping gallop, battle axe brandishing craziness, and carefully placed riff harmonies. If this song was a battering ram, then kiss those castle gates goodbye.
#15
"Native Dreams"


Rose Windows

Not necessarily a breakthrough with its complexity. "Native Dreams" builds complexity around simplicity to really elevate everything to the next level. The drums alert, the flute caresses the ears, all the while heavy organ and string bends collide and release a climatic appeasement with each head bang. Get to know these guys and gals, they'll be in your ear for a while.
#14
"Grow Your Own"


Buffalo Killers

What's this list without some classic blues. While it's heavily punctuated with metal these guys manage to make a stand with the memorable "Grow Your Own." The Buffalo Killers aren't one to skimp on the heft, a monstrous, circling fuzz riff blows the doors off. The air guitar ready guitar solo is also something to look forward to.
#13
"Stingin' Belle"


Biffy Clyro

Headlining the Reading and Leeds festivals is a really big deal so it's kind of strange how this band gets no run over on this side of the Atlantic. Their sixth album, Opposites, is stuffed with killer guitar work but this song takes the cake. With a wall of power chords akin to a punch in the gut, "Stingin' Belle" may be their heaviest track to date. Being from Scotland, I guess it was only a matter of time until they broke out the bagpipes – and that works too.
#12
"Running For My Life"


The Virginmarys

When I started in on this record I was ready to send it to the trash and be disappointed but boy was I wrong. Ripped right out of the pages of guitar wankery done right, The Virginmarys' "Running For My Life" takes no prisoners. Built like a roller coaster with it scale climb up the hill. It's really the Tom Morello inspired drop that had me in blissful Rage/Audioslave nostalgia.
#11
"God Is Dead"


Black Sabbath

Although Rick Rubin did his best to ruin Sabbath's comeback LP, 13, the songs themselves were shockingly good. This quaint little number starts with quiet guitar arpeggios from Tommy Iommi but the heavy part is classic Black Sabbath. It would have been cool if the whole band was here but Brad Wilk (Rage Against The Machine) keeps his drumming simple – in the best Bill Ward tradition. Check out the riff at the 6:30 mark. It is just like 1971 all over again, baby!
#10
"Clash The Truth"


Beach Fossils

The title track from Beach Fossil's second album is a total rip-off of – no, not The Clash – Sex Pistols' "Pretty Vacant" and for that alone it deserves consideration. See, not only hard rock and heavy metal bands can make use of the simple melodic device we lovingly refer to as a "riff." Lo-fi indie bands have a right to them as well.
#9
"Goodbye Gemini"


Blood Ceremony

Often we think of a classic riff as a series of single notes played in a unique and memorable way. But chord progressions can qualify too. After the flute and bass guitar intro, check out that great progression in the song's verses. Hey, the chorus is catchy as hell but the money-maker here is that last chord in the riff, a half step above tonic, played all palm-muted and staccato to contrast the jangle of the rest of it. Genius. According to iTunes, it's my most listened to song of the year.
#8
"Toe Cutter/Thumb Buster"


Thee Oh Sees

Here I go again with my fandom of monstrous riffs. Not only does "Toe Cutter/Thumb Buster" possess my favorite song title of the year, it also happens to be a hell of a riff. After erupting into your ears the lurching fuzz has nothing to do but consume your brain. The Sees are always spot on with most of their riff constructions and this one is no exception.
#7
"Books On Tape"


Native

One of the tightest, powerful, and lush records I've had the pleasure of listening to all year, Native has created something special. "Books On Tape" takes everything good about Orthodox and makes it better. Tightly packed post-punk twinkle riff, ever evolving and interesting song structure, and the basic ease of freakin' rocking. If they can do this with their debut, I cannot wait to see what comes next.
#6
"Unspoken"


Kylesa

While all these metal riffs have defiantly earned their place here, Kylesa's "Unspoken" brutally beats your over the head reminding you why it deserves to be in the top 10. Taking their seamless blend of metal, sludge, and psych Kylesa integrate an unrelenting charge into the riff that's sure the leave the listener grounded.
#5
"Loose Sutures"


FUZZ

Acolytes of fuzz, look no further, for Ty Segall has answered our prayers with trio of long hairs, FUZZ. A lot of bands know how to use a fuzz stomp box, FUZZ knows how to harness it. "Loose Sutures" takes advantage of some meaty chord riffage, what sounds like a N.I.B. bass tribute, and then still finds time to create a solo riff that makes the song even better. I'm just going to say what we're all thinking, God bless your FUZZ.
#4
"Wasteland"


Hooded Fang

I really want to champion Hooded Fang, I feel that people are being deprived by not knowing about them. The song "Wasteland" is instant happiness every time I put it on. After coming up with the description of an armor plated ice cream truck being driven by someone under the influence of speed what more could you want. Just play this song and how could you not happily head bob.
#3
"All Night In Dreams"


White Denim

Cut from the same cloth as The Allman Brothers, this track from the Austin band's latest record Corsicana Lemonade plays to all White Denim's strengths. With two virtuoso guitar players in the band it's a shame they don't show off more often. Tight as a drum and bursting with ideas, their style of music lends itself to an almost conservative approach. Too bad. We want rock gods, dammit. Shred a little. Tear it up! I'll tell you what: these boys are really good.
#2
"Spiderwood Farm"


Pursons

Another UK act, Purson's The Circle And The Blue Door is my favorite debut album of 2013 and this is the best song on it. Kinda proggy, kinda psychedelic, kinda proto-metal, but 100% awesome. These guys caught some trippy time machine and found themselves with the best riff of the year.
#1
"My God Is The Sun"


Queens of the Stone Age

There's nothing else to say except that "My God Is The Sun" deserves to be number one. This is classic Queens of the Stone Age, everything is here intermixing to create one hell of a sexy brew. Taking a lot of cues from their earlier days is exactly something that you should do if you're QOTSA. Especially if you had a hand in influencing the modern guitar riff as we know it today.

-Feature by Christopher Tahy & Scot Lade

Latest posts by Christopher Tahy
(see all)