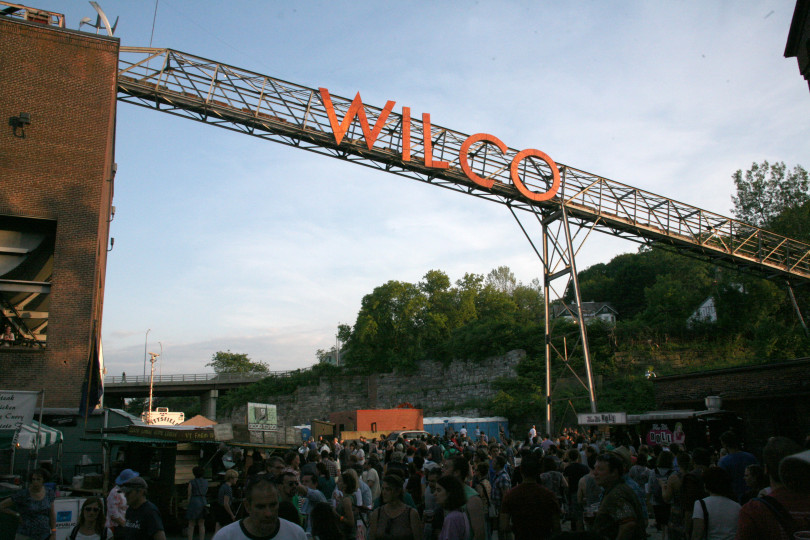 No matter how jaded and cynical a music writer becomes, and there's plenty going on in the music and journalism businesses to leave one jaded and cynical, most of us have artists whose history and/or music hits us in our warm spot, a place of personal satisfaction and joy. For instance, I'll always have a soft place in my heart and mind for the music and performances of Todd Rundgren; he was my first concert when I was 16, and albums like Something/Anything and A Wizard, A True Star got me through those challenging years of adolescence.
For me, Wilco is another one of those artists, and I'm sure a part of the emotional connection that I feel to Jeff Tweedy and his music is that when I lived in St. Louis and wrote for a number of music publications there, his earlier band, Uncle Tupelo grew from playing tiny shows in Cicero's Basement Bar (which these days has been renovated, it's the Duck Room inside of Blueberry Hill), to national touring after signing to a major label just in time for a glorious break up, playing two sold-out shows at Mississippi Nights, at the time a premier live music venue, now a holding area for a riverboat casino.
But while many of us suspected that the strong songwriting and fun performances of Uncle Tupelo would take them to grander heights, for a long while there Tweedy was just another guy in town that was part of a vibrant, growing music scene. You could wander into Euclid Records and Jeff would be the guy to ring you out, while quietly judging your choices for purchase. I have a memory of Tweedy selling me my copy of Husker Du's double album, Warehouse: Songs and Stories… but it was a long time ago and maybe I've combined two events in my tattered mind.
As a music writer, I had the privilege of interviewing Tweedy and his partner Jay Farrar in their crappy upstairs apartment in their hometown, Belleville, IL, where I had to climb over discarded pizza boxes on the back porch and wait with them in the kitchen for their coffee to cook before they would think about answering questions, and they seemed more interested in what I was listening to (I think it was a test) than they were in discussing their influences with me.
Lots of people in that town were signing deals, making records and hoping to make the big time, Uncle Tupelo and a few others really made it. When Uncle Tupelo broke up, I got to collect a few quotes from the principles that ran without a byline in RollingStones' Random Notes music news column, and then got to interview Tweedy and the first iteration of Wilco in their manager's office, which was above an abandoned pharmacy on a side street in Maplewood, MO, not one of St. Louis' more tony neighborhoods, to advance their debut album, A.M., for Billboard Magazine. But I best remember Jeff hanging around, using backstage passes to The Replacements show at the American Theatre to drink up the band's beers, and showing up at venues to see his favorites touring through town.
One brief encounter has stayed with me over the years. I had interviewed Richard Thompson on the phone to advance a show, and then wore my favorite Uncle Tupelo t-shirt to the concert. Tweedy approached me to see if I was planning to use my backstage pass to go back and greet the artist, while wearing his band's t-shirt. He seemed sweet, ambitious and hopeful. That moment wasn't lost on me, and came to mind last year when Tweedy produced Thompson's latest album.
So here's a somewhat sentimental look at the ten studio albums from Wilco, listed from least to the one's I think everyone should own (if you're not going to own them all).
#10
Wilco


A.M.
Reprise Records [1995]
When he left Uncle Tupelo, Tweedy managed to bring along all the auxiliary players, including John Stirrat on bass, who's the one other member to play on all of Wilco's albums, drummer Ken Coomer, and multi-instrumentalist Max Johnston on mandolin, dobro and banjo. To give the rockers some additional kick they brought Bottle Rockets guitarist and songwriter Brian Hennemann into the studio to play the leads. While you can feel Tweedy & Co. pushing back against the alternative country leanings of the last UT outing, Anodyne, to create something fresh and more in touch with more of a mid-western rock vibe on tracks like "Casino Queen" and "I Must Be High," which interestingly talks of saying "goodbye." While not a huge commercial success, you could feel Tweedy testing out directions for his own musical creativity, as he was now for the first time the sole leader, and ambition apart from the purist mythos that had become associated with Tupelo.
#9
Wilco


Wilco (The Album)
Nonesuch Records [2009]
The latest and most familiar 6 person line-up of Wilco solidified in 2005, and first recorded together on the live concert album, Kicking Television, that same year. Tweedy and Stirrat were joined by drummer Glenn Kotche, keyboardist Mikael Jorgensen, Pat Sansone, who plays keyboards, guitars, whatever's called for, and Nels Cline, the electric guitarist who brings his exotic and experimental jazz leanings to the band's occasional interest in push the noise envelope. Sky Blue Sky was their first studio effort as a unit, but by the time they recorded Wilco (The Album), everyone had settled in a had a greater sense of their place and they delivered an album that feels like it was designed to fit alt/rock and college playlists. The goofy title track, "Wilco (The Song)," a duet with female folk artist Feist, "You And I," a noisy rocker in "Bull Black Nova," and some melodic airplay bait in "You Never Know," "I'll Fight" and "Sonny Feeling." It's a solid enough outing, but it's the one that got labeled by some as "Dad rock." Ouch.
#8
Wilco


Star Wars
dBpm/ANTI- [2015]
Wilco had been busy for a year touring to celebrate their 20th year of existence with two large compilations, What's Your 20? Essential Tracks 1994–2014 and Alpha Mike Foxtrot: Rare Tracks 1994–2014, when they surprised fans with this free digital download in mid-July, with the CD and vinyl version offered for sale at a later date. Opening with the minute plus of noise that is "EKG," Star Wars found the band loose and loud, reminding folk that at heart they were just a rock & roll band. And, they obviously enjoy playing these songs, since "Random Name Generator," "More…," "The Joke Explained," "Cold Slope" and "Pickled Ginger" have remained in their recent set lists. This one, RollingStone Magazine called the "anti-Dad rock" record, and as such it's got that and a lot of fun noise going for it.
#7
Wilco


Schmilco
dBpm/ANTI- [2016]
This, of course, is the new one. You can read The Fire Note's full review HERE. But for the goofy title, an homage to American pop songwriter Harry Nilsson who title one Nilsson Schmilsson, and the close proximity to Star Wars, Schmilco finds Tweedy introspective and rhapsodic on songs like "Normal American Kids," "If Ever I Was a Child,' "Cry All Day" and "Shrug and Destroy." This one is already starting to grow on me, but it's a record with depth and texture that requires some time.
#6
Wilco


The Whole Love
dBpm/ANTI- [2011]
If Sky Blue Sky sounds like a band coming into full possession of their powers, The Whole Love, with it's long 7-plus minute opener, found the band expanding on what had come before. Great pop song tendencies wrestle with the band's inclination toward edginess, so you get melodic, fun, compact experiments like "I Might," "Dawned On Me," "Born Alone," "Standing O," and the title track. The set closing 12 minute song, "One Sunday Morning," dedicated to the boyfriend of Pulitzer Prize winning author Jane Smiley, is just another example of the highly literate, imaginative and quirkiness that underlies the artistic inclinations of Tweedy and Company.
#5
Wilco


Sky Blue Sky
Nonesuch Records [2007]
This was the first studio outing with the current 6-piece Wilco, exhibiting what we could expect from Nels Cline on lead guitar quite apart from the energy and creativity of the live album where he was fleshing out the parts of others. So you get this wonderful juxtaposition of the earthy roots rock vibe at the beginning of "You Are My Face," with a near Grateful Dead feel, and then it's more progressive textured arrangements of keyboards and guitars as the tune develops. And there's the beautiful dual guitar solos of "Impossible Germany" with it's unique, dare I say "unlikely" lyrics. Add that to one of the best break-up songs ever, in "Hate It Here," plus the fun walking with a bounce blues of "Walken," and the meditative "On and On and On" and you have a real fan favorite, and an important statement of a band that has come into their own. Again. And, from here on out, if you think of yourself as a Wilco fan, you should really own this one and those to come.
#4
Wilco


Being There
Reprise Records [1996]
Given that A.M. didn't fare as well, either commercially or critically, as Tweedy had hoped for his new band, what followed appeared to be a time of artistic ferment, creative stretching and reflection. The fruit of that work is the band's only double length studio album, introducing new member Jay Bennett as a lead guitarist who also had keyboard skills, and experimenting with bigger, bolder production values that included the inclusion of horns. The end result was an album that still had one foot planted firmly in the alt/country roots of the band, represented by the stringed contributions of Max Johnston and two songs with Bob Egan on pedal steel, and another foot in the world of rock experimentalism, from power pop guitar hooks to more psychedelic leanings, which led one writer to compare the album favorably to the Rolling Stone's Exile on Mainstreet. That claim of genius still lingers around this album, as songs like "Misunderstood," "Kingpin," and "I Got You (At the End of the Century)" were long considered Wilco concert mainstays, easily becoming audience sing-alongs. By now Tweedy had moved to Chicago and started a family, he and the band were looking forward not backwards, not to Uncle Tupelo, not to anything. As he confessed in the album's noisy opener, "Misunderstood," "you still love rock & roll," before later spitting out his recriminations in the phrase, "I'd like to thank you all for nothing, nothing, nothing at all."
#3
Wilco


A Ghost Is Born
Nonesuch Records [2004]
With Jay Bennett, fired/departed following the recording of Yankee Hotel Foxtrot (see the film "I Am Trying to Break Your Heart" to make up your own mind, for the first time Jeff Tweedy took on the sole lead guitar role in Wilco. If this is bit of a stretch for the guy who started out as the bass player in Uncle Tupelo, Tweedy rose to the occasion making up for the kind of melodic precision often associated with the lead guitarist's role with a sense of passion and an innate feel for the instrument's potential for sonic bombast. Tweedy, Stirratt and drummer Glenn Kotche (who came on board for YHF) and for the first time keyboardist Mikael Jorgensen; Wilco's current shape was taking form, but a continued interest in experimentation, sonic exploration and a desire to escape the boundaries of any defined genre suggest a broad musical palette. Take the ten-plus minutes of "Spiders (Kidsmoke)," which begins with a techno bed that a friend has labeled Kraut-rock (think German band Kraftwerk's 70's hit "Autobahn"), but breaks out mid-song with a hard rocking guitar that, I swear to God, mimics the chord changes in heavy metal band Deep Purple's song "My Woman From Tokyo." Sometimes I wonder what all Tweedy was listening to in all those idle hours at the record store. Follow that up with the piano pop and string arrangement for "Hummingbird," and you've got a band that's not playing by conventional rules, even as they hope that you'll "remember to remember me." Of course that same friend I mentioned, reminded me that this disc is marred by the ten-plus minutes of electronic noise, static and feedback that close out the song "Less Than You Think," which is evidently included because it's a sonic representation of what Tweedy experiences in a migraine attack. But, like me, you are free to skip that shit, to the better, much beloved songs like "Handshake Drugs," "Theologians" (which I try not to take personally), and "The Late Greats."
#2
Wilco


Summerteeth
Reprise Records [1999]
I confess, this is my go-to Wilco album, the first one I'm likely to play if I'm in the mood to hear Tweedy & Co. Part of it is that I have a real warm memory of taking my now grown children to see Wilco open for R.E.M. in one of those big outdoor sheds; it was the first sense that I had that my favorite local (okay, he had moved north) musician was about to make the big time. Of course, this wasn't the record that made that happen, but it does contain a few of my favorite Wilco songs of all time: "A Shot In the Arm," "Via Chicago," "She's a Jar," "ELT (every little thing)," and "I'm Always In Love." Jay Bennett co-wrote with Tweedy much of the music for this one along with three quarters of Yankee Hotel Foxtrot, and ended up playing a lot of the instruments in the studio. I suppose some of the emotional connection for me is that this was Tweedy at his most accessible, all bubblegum poppy with more ba-bah and doo-wah backing vocals than you hear on any other Wilco effort, and all too soon after leaving Wilco and producing a number of solo albums (my go-to is The Magnificent Defeat, 2004), Bennett died due to an overdose of painkillers in 2009. Perhaps, some times absence does truly make the heart grow fonder. In the years since the release, we've learned that not everybody loved the Tweedy/Bennett working relationship, and the dominance of keyboard/mellotron sounds here, which led to discord and Ken Coomer leaving as the band's drummer. Surely a lot of the genius that many discovered on Yankee Hotel Foxtrot was already on exhibit here and on Being There, but if you were to divide the existence of Wilco into B.C. and A.D., ground zero would be no doubt the next one.
#1
Wilco


Yankee Hotel Foxtrot
Nonesuch Records [2002]
If you own one Wilco CD, the smart money bets it's this one. And here the story of the album's release has often been a bigger story than the actual music. Turns out Reprise Records, having watched the three previous albums fail to meet sales projections, decided YHF was not likely to be any more successful and cut their losses by dropping the band, while paying them for the album unreleased. The band began streaming the finished product on their website, and as it began garnering positive fan and critical response, the band was signed to Nonesuch, and the album released the following year. That Wilco managed to get paid twice for the same album, and that both Reprise and Nonesuch were affiliated with a Time Warner Bros., was an irony that was not lost on anyone. Add the iconic album cover photo of the Marina City buildings that overlook the Chicago River, Yankee Hotel Foxtrot has enough back-story to provide inspiration for artists in their interactions with corporate realities. In this David vs. Goliath story, David was an alternative rock band whose time had come. Of course, this was a tense time in the life of the band, as exhibited in the movie, "I Am Trying to Break Your Heart: A Film About Wilco," which started the day Tweedy decided to replace drummer Ken Coomer with Glenn Kotche, who he had met working on a side project with Jim O'Rourke in the band Loose Fur. Kotche became the new drummer and O'Rourke was brought in to mix the album, opening up a break in vision between Tweedy and Bennett, who left the band shortly after the album was finished. Now sometimes the drama overwhelms that artistic impulse, but here it has seemed to benefit Tweedy and Co., as the band in the midst of numerous pressures, come together to create a band worthy of all the hype. "I Am Trying to Break Your Heart" is the heart-breaker that opens the record, but song after song here deliver the unique and pervasive musical vision of a band that can pretty much do whatever they set their mind to: from the string section opening of "Jesus, Etc.," about singing "sad, sad songs," to the pop sentimentality of playing music down by riverfront in St. Louis in "Heavy Metal Drummer," where Tweedy recalls "I miss the innocence I've known/playing KISS covers, beautiful and stoned." Other delights include "Kamera," "War On War," "Ashes of American Flags" and "I'm the Man Who Loves You." It's a winning proposition from top to bottom. I've heard Wilco labeled the American Radiohead and the like, but none of those comparisons do justice to the unique and special musical history defined across these ten albums… Lots of left turns, loops and twists on this journey, each one worthy of consideration. Pick your own favorite, there's always room to find your own connections in a Wilco album.
-Feature by Brian Q. Newcomb
Latest posts by Brian Q. Newcomb
(see all)