Uncle Tupelo


The Seven Inch Singles Box
Legacy Recordings [2012]


If you are not familiar with Uncle Tupelo then it may surprise you to know that the band is credited as one of the founders of the alternative country genre. Uncle Tupelo's first three albums influenced countless contemporary roots rock artists and then the story continues as the band split and member Jay Farrar formed Son Volt while Jeff Tweedy created Wilco.
That leads us to this Uncle Tupelo Record Store Day release that quietly came out last year. The 7-inch boxes are individually-numbered and contain four 7″ singles – 3 original replica picture sleeves as well as a new single from original demos. The 7's" are long out of print and "That Year (1988 Demo)" & "Pickle River (1987 Demo)" have never been commercially available so for fans and collectors the box is a nice addition to anyone's 7-inch collection.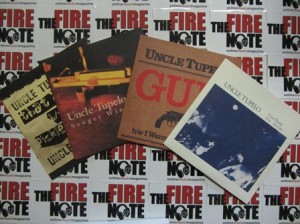 The music here speaks for itself as you get "I Got Drunk" b/w "Sin City" (1990), "Gun" b/w "I Wanna Destroy You" (1991) and "Uncle Tupelo Sauget Wind" b/w "Looking For A Way Out (acoustic)" and "Take My Word" (1992) along with the previously unreleased 7″ mentioned above. The demos 7-inch is nice because of its unreleased nature but not an essential listen so this set is really all about having the original singles. The box also includes a 7″ x 14″ 1990 replica tour poster and download card for all tracks which is always a good extra for vinyl releases. If interested there are plenty of these still available from eBay or Uncle Tupelo's store.
Uncle Tupelo Website
Uncle Tupelo Facebook
Legacy Recordings
-Feature by Christopher Anthony

Latest posts by Christopher Anthony
(see all)