The National


"Think You Can Wait"
4AD Records [2011]


Here at The Fire Note we take National releases very seriously. It only makes sense to take a look at this little beauty with the release today of their great new record Trouble Will Find Me (TFN Review HERE). After all the acclaim garnered from their 2010 release High Violet, it only solidified what everyone already knew, their importance in music today. A flurry of other recording opportunities presented themselves. Recording covers for hit HBO shows' Boardwalk Empire and Game of Thrones, appearing on late night TV all over, and debuting new songs when they could. But, that's not why we're here, it's their contribution to film and video games that is featured on this 7-inch.
Side A, "Think You Can Wait" is a beautifully spun piano based ballad written for the indie comedy Win Win. Side B is what might be considered the biggest surprise. "Exile/Vilify" was written for Valve's hit video game puzzler Portal 2. One of my favorite National songs, "Exile/Vilify" packs all the perfect National qualities; weighty piano – check; thought provoking lyrics –check; classy elegance – check; as well as the patented soaring choruses.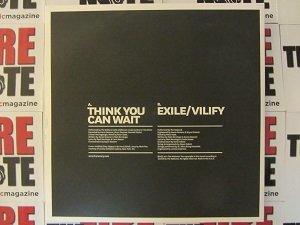 Housed in an standard cardboard jacket, it the jumble of art on the sleeve that speaks for itself. A nice piece of clear wax and a download code is included. The best part about this 45 is that it is not limited. So, if you are indeed a fan of The National then there isn't any reason not to add this gem to your collection.
The National Website
The National Facebook
4AD Records
-Feature by Christopher Tahy

Latest posts by Christopher Anthony
(see all)