Sleeping Bag/Mike Adams At His Honest Weight


Heavyweights Split 7-Inch
Joyful Noise Recordings [2013]


I have always liked the split 7-inch as it gives the small wax format even more purpose and typically there is a story behind the pairing. Here we have a Fire Note favorite Sleeping Bag teaming up with the more unknown Mike Adams at His Honest Weight which, like Sleeping Bag, hails from Bloomington, Indiana. This 7-inch contains two songs from each band: one new original track, and one cover of the other band.
On the A-side, Sleeping Bag kicks things off with a new song "Bummer School", which is more of their slacker rock type of style which grinds side to side. That is followed by their cover of Mike Adams' song "Don't You Blanket When That Happens," which is delivered a bit rawer than the original complete with a little fuzz and some really catchy harmonies at its mid-point. The B-side has the new track from Adams,"dmb," which is a mid-tempo indie track that has a nice power pop undertone. His cover of Sleeping Bag's "Desker," which is from their 2011 self-titled debut, finds Adams slowing the track down and making it more Death Cab than Dinosaur Jr. Overall the music here is great and each cover song stands up well to the original. This also was a nice introduction to Mike Adams at His Honest Weight and we will look forward to hearing more from him soon!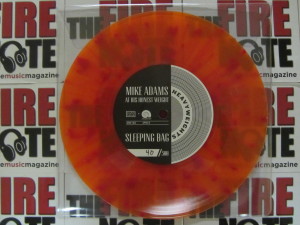 The jacket is just a simple clear slip over plastic sleeve with no artwork. This 7-inch is limited to 300 hand-numbered copies on orange w/ magenta splatter vinyl. This split release is still available on the Joyful Noise website.
Sleeping Bag Website
Sleeping Bag Facebook
Mike Adams Facebook
Joyful Noise Recordings
-Feature by Christopher Anthony

Latest posts by Christopher Anthony
(see all)