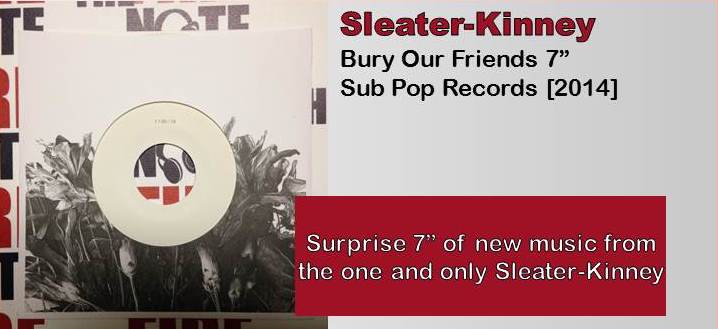 These days it seems harder and harder to actually be surprised. Our instant world almost never allows that "oh my gosh!" feeling anymore. Well, the trio of Corin Tucker, Carrie Brownstein, and Janet Weiss, better known as the retired Sleater-Kinney, got us all with their new 3,000-copy, limited-edition deluxe vinyl box set, Start Together, that was just released this past week. Along with the 7 album set there was this 7-inch with only 1/20/15 marked on its wax. Could it be? Oh yes it is – a new single from Sleater-Kinney!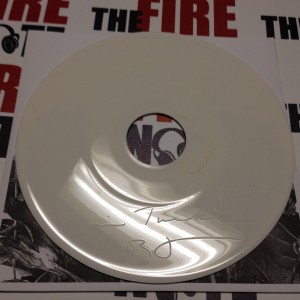 "Bury Our Friends" is the A-side and riveting new single from Sleater-Kinney. The song represents the first new material the group has released in nearly a decade and joyfully finds the familiar overlapping vocals of Brownstein and Tucker leading the way. The song has everything that always made Sleater-Kinney great – a memorable riff, power behind every vocal and a beat that keeps your feet moving. The song will easily get you ready for their full length, No Cities To Love, out January 20 next year via Sub Pop. "Bury Our Friends" is the only track on this 7-inch as the B-side is etched only.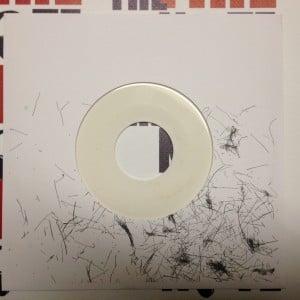 The art styled jacket is an old style 45 sleeve with the middle cut out. The white 7-inch only has "1/20/15" typed on the A-side while the B-side has the three band members signature etched into the wax. The record plays at 45 rpm and is limited to the 3000 box sets. If you want one of these you will need to snag the album box set at either a record store if you are lucky or the second hand market. Sub Pop is producing a second pressing of the box set on black vinyl that will also include the single. It is unclear if the single will be white or not.
Sleater-Kinney Website
Sleater-Kinney Facebook
Sub Pop Records
-Feature by Christopher Anthony

Latest posts by Christopher Anthony
(see all)