Here We Go Magic


You Get More Done When You're Happy
Joyful Noise Recordings [2013]


The first installment of Joyful Noise's 2013 Flexi Disc Series features an exclusive track from Here We Go Magic. The song "You Get More Done When You're Happy" has a sort of 80's instrument style while a pleasant free flowing vocal floats the song along and creates a very timeless quality to the track.
The flexi is in standard form with a single sided cover art jacket. The disc is on a square, single-sided, clear 7″ that are limited to 1000 copies. One cool thing about this series is that the music is not released digitally or on any other format so it really is all about the Flexi. Currently the subscription series is sold out but you can get on a waiting list.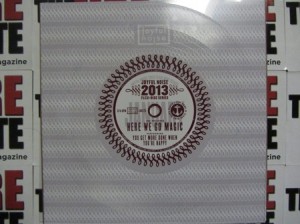 Here We Go Magic Website
Here We Go Magic Facebook
Joyful Noise Recordings
-Feature by Christopher Anthony

Latest posts by Christopher Anthony
(see all)