Cop City/Chill Pillars


Gift Shop b/w Brand New Neighbor
HoZac Records [2013]


Cop City / Chill Pillars last record Hosed (2012), on Florida's Dying, was a full length that challenged all pop music with its repetitive singing and tunnel indie rock sound that made you listen again. This new 7-inch on HoZac is another good dose of what Cop City / Chill Pillars are all about as it takes you on a ruff but interesting indie rock ride.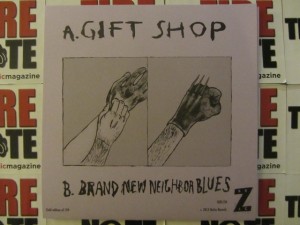 The A-side "Gift Shop" is a distorted ruffed up mess that for Cop City / Chill Pillars is right where you want it to be. The song is only 2:36 long but has two distinct parts that help it stand out as its first half is full of tunnel guitar noises and revered voices. The B-side, Brand New Neighbor Blues, begins with a fun almost speak along lyrics that border on singing but not really. Then the angular sort of out of tune guitar takes over and eventually the track speeds up to its ending. Basically if you are into off the beaten path type of music, Cop City / Chill Pillars is for you.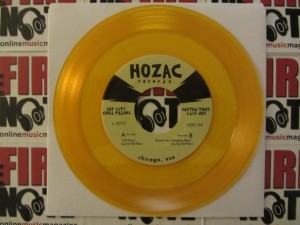 The jacket here is an art filled cardboard cover that folds over like a book. This translucent gold pressing of 199 copies is a limited-edition. You might still find one at HoZac but typically the limited ones sell quickly but there is always black.
HoZac Records
-Feature by Christopher Anthony

Latest posts by Christopher Anthony
(see all)