Arctic Monkeys


"2013" b/w "Stop The World"
Domino Records [2013]


This limited 7-inch from the Arctic Monkeys was included with the deluxe version of their new album AM (TFN Review). The record contains two B-sides and adds to the Arctic Monkeys wax catalog of releases.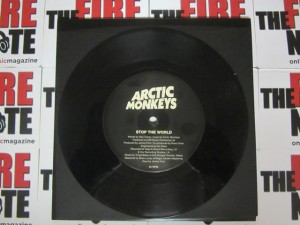 The A-side here is "2013" which has the same mid tempo pacing as much of the new record with its very marching chorus lead by singer Alex Turner as he repetitively sings "It's two thousand and thirteen, all across the galaxy; It's two thousand and thirteen." The B-side "Stop The World" (as it is listed on the 7-inch although the full title I believe is "Stop The World I Wanna Get Off With You") is another foot tapping song that fits right in with AM's overall sound and vibe. Both of these tracks complement the album nicely but part of me always hopes for something completely different when you get to the B-sides.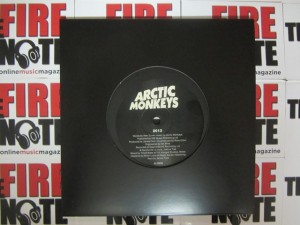 The jacket is a very simple black cardboard with the middle cut out and the vinyl is housed inside with a black paper sleeve. This 7-inch is limited to the deluxe version of the record and although I do not have pressing numbers I assume it is in the thousands. The wax is on a standard black played at 45 rpm. Both of these tracks are already B-sides to the singles "Do I Wanna Know?," and "Why'd You Only Call Me When You're High?" so the tracks here are not as essential to collectors but if you are a completest you will want the physical 7-inch.

Arctic Monkeys Website
Arctic Monkeys Facebook
Domino Records
-Feature by Christopher Anthony

Latest posts by Christopher Anthony
(see all)