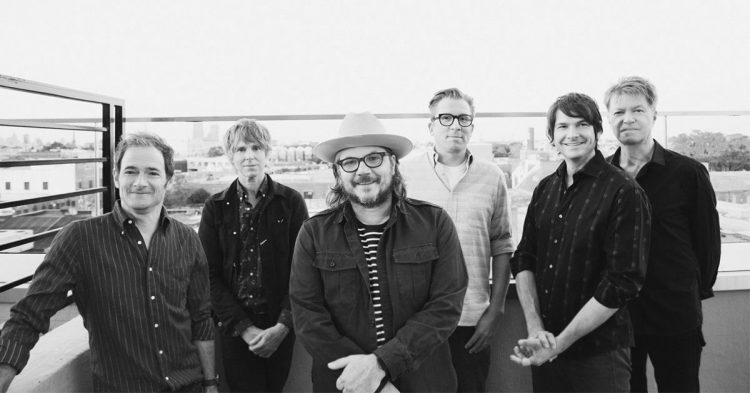 Wilco Ode to Joy Tour w/ Special Guest Deep Sea Diver; Taft Theatre, Cincinnati, OH – Saturday, November 9, 2019
"Cincinnati, I've got to say, you are really bringing it," stated Wilco frontman Jeff Tweedy about 2/3rds of the way through their performance at the Taft Theatre on Saturday night. Tweedy is not one of those performers who feels the need to pump up the crowd each night, assuring them that they are "the best crowd we've ever played for," but he's not as opaque as Bob Dylan who barely acknowledges the audience. And just to prove that he wasn't dishing the crowd some standard stage banter, Tweedy continued, "We've had some real dog-shit audiences on this leg. I didn't realize how bad they were until tonight. So thank you!" And, to further clarify that he was in no way intending to suck up to the crowd, he added, "We don't like many audiences."
This is not the kind of admission a band shares from the stage if they're trying to ingratiate themselves to their fan-base. Wilco clearly wants to be appreciated first and foremost for their music, the songs themselves and their performances. Which explains why a band returning after a couple-year break from touring would hit the road playing sets dominated by songs from their newest album, Ode to Joy, rather than leaning on the familiar hits from their rich, extensive album catalog, even though many fans I've chatted with have reported that it was taking them a while to warm up to the new material.
The six-piece band hit the stage Saturday night, and settled into their familiar places from over 15 years of touring together as a unit. Before drummer Glenn Kotche kicked off the opening salvo from Ode to Joy's opening track, you could hear the warm hum of amps, the buzz of instruments coming alive. Like many of the songs on the new album, "Bright Leaves," feels stark, tightly contained, even compressed on the album, but live you could hear more of the parts from the other players in the band, the subtle guitars of Nels Cline, the keyboards of Mikael Jorgenson and Pat Sansone adding resonance to Tweedy's acoustic guitar and vocal. And that sonic opening up was even more obvious when they started "Before Us," bass player John Stirratt more present on backing vocals, and Cline offering up melodic lines that were barely apparent in the recording's mix.
If the first two songs found the crowd taking the temperature of the new songs, and wondering what to expect from the band for the rest of the set, all doubts and concerns were set aside as the familiar opening notes of "I Am Trying to Break Your Heart" played, from the band's breakout album, 2001's "Yankee Hotel Foxtrot." I could hear the more committed fans around me singing along right from the first line, "I'm an American aquarium drinker/I assassin down the avenue," but it felt like the entire sold out audience was fully engaged in time to call out in unison for that "What was I thinking when I said 'HELLO'" moment. It was as if all the cold air we carried into the room from the wintery wind outside the theatre, was suddenly gone.
And then it warmed up even more with the opening chords of "Kamera," from that same album, played with enough bright keyboards to emphasize the song's down-right pop-songiness. After playing an acoustic guitar on the four opening tracks, it was fun to see Tweedy strapping on an electric SG for the next song, "Handshake Drugs," a rocker from "A Ghost is Born" from 2004. This brought Cline's eclectic, often exciting, guitar soloing out further into the music for the first time of the night, the song concluding in a wall of feedback, which found it's way into the quieter, even soulful piano ballad "Side With the Seeds," that opened with Sansone's synth imitating an orchestra's strings. Tweedy delivered his best impersonation of an R&B crooner, and then played some guitar double leads in harmony with Cline.
At this point, Tweedy took in the wall to wall confines of the warm, packed theatre before reporting, "Last night, we played outside and it was 30 degrees, we couldn't even feel our arms… so this is… fucking awesome." Then led into another new one, "One And a Half Stars," a folkier song, back on acoustic. Then he gave up his guitar and even removed his stocking cap for what has long been an audience sing-along at Wilco shows, "Hummingbird," another from "A Ghost is Born." After all that audience love, Tweedy isolated someone down front, "I noticed you went and got a beer during the new song…" and then with a paternal "I told you so" tone in his voice, chided the beery fan, "and you missed all but the last chorus of this one. I'm watching you, so be cool now."
And then appropriately started another new one, the beguiling pop of "White Wooden Cross," which uses a personal feeling of love for one's close family members to address the meta-political topic of random shooting violence in our country. Next up was another Wilco concert staple, "Via Chicago," the simple gentle folk song that the band routinely interrupts with the sonic assault of drums and guitar that mimics the sound of a landing 747," while Tweedy, Stirratt and the keyboard players play it straight, as if nothing is happening. It's one of those celebrations of noise that shows up routinely in Wilco's music that can be off-putting to some… but the Cincinnati crowd was digging it big time, especially as the melody rises out of the din.
"Bull Black Nova," from the band's eponymously titled 2009 album, was next up, demonstrating Tweedy's flirtation with what my music critic friend Dan Durchholz calls "krautrock," a hint of electronica influences like Kraftwerk. Early on Jorgensen and Sansone filled the space with the repetitive keyboard notes, but in time, Cline and Tweedy's electric guitars combined to take the song to it's explosive climax. Now if the noisy interludes of "Via Chicago" tend to function like an inside joke for Wilco fans, next up came a real test: the noisy percussive intensity of "Laminated Cat," from a side project of Tweedy, drummer Kotche and former Sonic Youth guitarist Jim O'Rourke, under the moniker Loose Fur. On this night, this song quickly went from zero to sixty with long, long minutes of thrashing, crashing noise.
And the reward for our patience, was the fun rocker from 2015's "Star Wars" album, "Random Name Generator," followed by the tender love song ballad, "Reservations." And then, the piece de resistance, "Impossible Germany," the inexplicable song that starts with an evocative opening guitar line, that latter develops into a lengthy mix of guitars from Cline, Tweedy, and Sansone, all playing the jazzy melody until it grows in intensity and you get the three doubling up their harmony guitar parts… it's long been a concert favorite, and it felt all the more special on this night, in this tour, with so much time elapsed since I'd seen the band live.
And many in the crowd seemed to be on that very same wavelength, as the crowd started singing along with Tweedy on "Jesus, Etc.," as soon as it began, another song with romantic resonance. Next was "We Were Lucky," another from the new album, perhaps the track which most obviously takes the leash off of Cline, and he delivers several of those potent guitar runs the test the boundaries of the song's chosen key, but always to remarkably musical and emotional effect. I felt his playing on this song live, however, proved more inclined toward the traditional confines of a melody driven solo than what we get on the record.
Next up was another from the new one, "Love Is Everywhere (Beware)," with a fun sing-song melody, and lovely guitar part. At this point, Tweedy had taken notice of someone down front eager to get Cline's attention. "Hey, you… I've got my eye on you… leave him alone. Stop taunting him, he doesn't even have his contacts in, so he can't even see you," he said somewhat playfully, protecting his guitarist. As I can remember a show on the "Kicking Television" tour in Springfield, MO where some drunk college kid jumped up on the front of the stage and danced around and then tried to put his arm around Tweedy, and it's not clear whether he actually hit the kid in the head, or just pushed him away, but what followed was a lecture on concert etiquette that was much needed (in fact I wish more artists would routinely school their audiences in how to be a respectful fan, both to the artist and their fellow music fans).
"How about something from our first album," asked Tweedy rhetorically, as he led the band into "Box Full of Letters," which goes all the way back to 1995, when Tweedy was fresh from Uncle Tupelo and his future was uncertain. "Everyone Hides," the strongest pop rock song from the new one (IMHO), was up next, familiar to many of Wilco's more observant fans for the fun video that runs non-stop on their website.
"Theologians," the song whose lyric gave the 2004 album, "A Ghost Is Born" its name, another piano pop song, but one that I have to work to not take personally. Thankfully, it's pretty great, and led right into "I'm the Man Who Loves You," with it's five alarm guitar intro, and catchy sing-along melody, it's Tweedy at his most easy going and playful. Here, Tweedy announced that the concert had reached it's end, telling us the at 22 songs they had completed their full set. "So, we've already left the stage, and you've all applauded, and now we're back…" suggesting that Wilco had reached a point in their career where they were above the whole contrived ending and encore. "So, here's a couple more," he said, as the band started another new one, "Hold Me Anyway," with that great lyric: "Are we all in love just because?/No! I think it's poetry and magic/Something too big to have a name/And when you get it right it's still tragic."
But then came the real set closer, song number 24, "Misunderstood," going all the way back to the band's 1996 album, "Being There," a long time concert favorite with that other built in inside joke, where Tweedy sings the lyric "I'd like to thank you all for nothing at all, I'd like thank you all for nothing… nothing…" and on and on it goes. For the record, on this Saturday night in Cincinnati, I counted 32 "nothings," but I may have missed one or two. And with that the concert proper was over, but thankfully, Wilco is not to old and comfortable to not return for some encores.
The encore, opened with "California Stars" the folk/country song dating back to Wilco's collaboration with Billy Bragg to make songs from lyrics written by Woody Guthrie. They followed that with more from "Being There," "Red-Eyed And Blue," also a country-leaning ballad, which included a verse where Tweedy whistled the melody, and Kotche hit two solid notes on his cowbell to launch the pop/rock of "I Got You (AT the End of the Century), which found Sansone back on guitar and displaying his Pete Townshend windmills, as the rocker folded neatly into another, "Outtasite (Outta Mind)," bringing an exceptional evening with Tweedy & Co., to a fine, fun conclusion.
The evening's opening act, was just the kind of band you want to see open for Wilco (If you can't get the Bottle Rockets, who will open for them at The Fox in St. Louis on Thursday night, where both bands will get treated like hometown heroes because they once were). Deep Sea Diver is a strong indie rock quartet out of Seattle, led by vocalist and songwriter Jessica Dobson. In the past she was a member of the Shins briefly, and has performed with Beck, Spoon, and the Yeah Yeah Yeahs. Here with her own band, supported by the potent rhythm section of drummer Peter Mansen and bassist John Raines, Dobson played guitars and keyboards, and got ambient support on guitars and keys from a fourth person who's not named on her wiki-page. She delivered 6 songs that suggested some real talent, including "Walking on a Switchblade," a song from their recently recorded third album. She's definitely a talent worth watching out for.
-Review by Brian Quincy Newcomb
Brian Quincy Newcomb has found work as rock critic and music journalist since the early 80's, contributing over the years to Billboard Magazine, Paste, The Riverfront Times, and The St. Louis Post-Dispatch.
Latest posts by Brian Q. Newcomb (see all)
Please follow and like us: