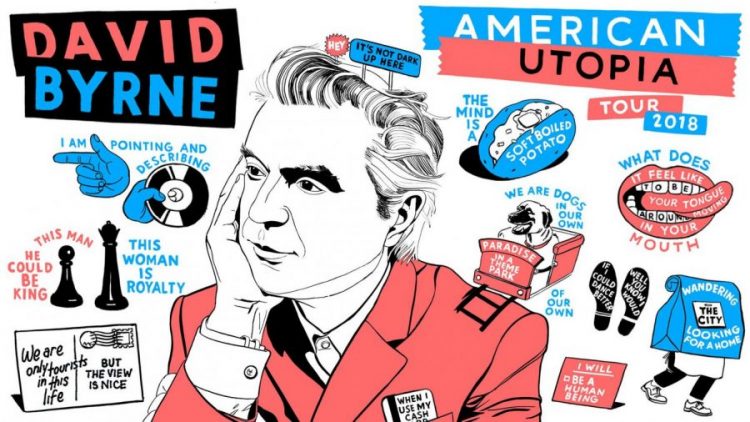 David Byrne w/ Special Guest Benjamin Clemetine: "American Utopia" Tour 2018; Rose Music Center, Dayton, OH –
Saturday, August 11, 2018
The English language is not particularly helpful when one sets out to describe the music and artistry of David Byrne, words like unique and quirky tend to carry a pejorative connotation, while intended as an expression of positive attributes. Perhaps, unconventional and artful better serve the singer/songwriter who led the band Talking Heads from playing the celebrated punk club CBGB's in NYC in the later 70's to a recording career that landed the band in the Rock and Roll Hall of Fame on the strength of classic alternative tracks like "Psycho Killer," "Once In a Lifetime," and "Burning Down the House," and the career defining concert film "Stop Making Sense."
Byrne, born in Scotland and moved to US in childhood, collaborated on a project with Brian Eno as early as '81, but started his solo career in earnest after Talking Heads disbanded in the late 80's. He's continued his work with Eno, as recently as his 7th solo album, this year's "American Utopia," (https://thefirenote.com/2018/04/16/david-byrne-american-utopia-album-review/) and has worked with St. Vincent, Fatboy Slim, done a few movie soundtracks, including "True Stories," based on Talking Heads' songs, produced albums, started the Luaka Bop record label, and appeared on "The Simpsons." Still, it's been a bit surprising how much attention his tour has garnered this summer, with videos showing up on YouTube from Coachella and Lollapalooza in Buenos Aires which emphasize the unique, high tech, artfulness he brings to the concert stage.
It was obvious that we were in for something quite unlike most concerts hitting outdoor venues this summer, when the lights dropped Saturday night at the mostly full Rose, with only a small table and chair sitting in the middle of the empty stage. No drums on a riser, no back row of amplifiers or keyboard set-ups. The spotlight came up to find Byrne sitting there holding a (presumed) plastic model of the human brain, as the opening keyboard intro of "Here" began, the last song from the latest album, as Byrne rose to walk back and forth like a lecturing professor explaining the way the brain works or doesn't to a college class, more of an example of effective performance than the way one expects a rock concert to start. No doubt we were in for a fun, artful, and curious evening in the mind and music of David Byrne.
As he shifted gears into "Lazy," from his '04 release "Grown Backwards," the song's music grew into a light funk song fueled by diverse percussionists and keyboards, his supporting players and vocalists wearing matching grey three-piece suits and barefooted, as Byrne was, all of the musicians carrying their instruments on harnesses, moving in ways that suggested choreographed dance moves as the song grew in intensity.
The energy escalated quickly, as Byrne was handed an electric guitar to play the opening phrases of "I Zimbra," from Talking Heads, through the hanging shimmery, silvery strings that surrounded the stage on three sides, not unlike those beaded door hangers, although so closely together that you couldn't see through them as they changed colors with the lighting. Byrne made judicious use of the Talking Heads catalog throughout the show, getting to some of the band's biggest hits, but focused musically on those tuned from the latter records which were influenced by world music's polyrhythm driven percussion and produced by Brian Eno. This worked splendidly for the 6 percussionists who started the song in a veritable drum circle, before joining he full band in synchronized dance moves, that were fun and exhilarating, thrilling the fans who stood from the shows start, dancing along with Byrne & Company. Next came "Slippery People," another Heads' number, with fun drum-line action, a solid backbeat from bassist Bobby Wooten, and solos from guitarist Angie Swan and keyboardist Karl Mansfield, whose varied synth lines were essential throughout.
Next up was "I Should Watch TV," a song from Byrne's 2012 collaboration with St. Vincent. Here, the theatrical side of Byrne shown through, as the side of the stage lit up with a glowing blue rectangle of lights accented the darkened stage, while the 11 members of his backing group, including the also omnipresent back-up singers/dancers Tendayi Kuumba and Chris Giarmo, who's harmonies supported Byrne whether in quieter, reflective moments or big gospel-music fueled rave-ups. A long keyboard introduction led into "Dog's Mind," which begins with lyrics about a Presidential press-op, but recognizing that from a dog's perspective its all pretty meaningless, and a suggestion that many Americans don't think all that much about the decisions made by leaders even though they profoundly impact our lives.
Six songs into to the show's primary 18 song set, Byrne broke character long enough to welcome the crowd, acknowledging his previous visit to film the Winter Color Guard event in 2015 at Convention Center, for a project mixing live bands with color guard theatrics, which clearly has been an influence no Byrne's concert choreography throughout the show. "I was immersed in the color guard world for a little while there," he told the crowd, "and it all leads to Dayton."
Earlier in the day, Byrne had posted to Facebook, "Reasons to Be Cheerful" a shout out celebrating a new addition at the House of Bread, a local hunger outreach to homeless and low-income families. Then, Byrne turned a bit serious, echoing the essay from the inside cover of the "American Utopia" which was also the name given to this tour. Recalling a statistic that revealed that only a small percentage of young adults participated in the last election, the singer said, "You kids, if you want a future, you have to participate." But then, not allowing things to turn too political, he introduced the first single from the new album, "Everybody's Coming to My House," which is likely a commentary about immigration, that featured another fine guitar solo by Swan, as the lighting turned the string walled stage back and side a bold blue, and the band led by Byrne, Giarmo and Kuumba in some of the nights goofiest dance moves, perhaps only outdone later during "I Dance Like This."
Here he returned to two more Talking Heads fans' favorites, "This Must Be the Place (Naïve Melody)," which does offer up that lovely, memorable melody on keyboard, and more of those quirky dance moves from band. Perhaps the biggest response from the crowd came with the opening notes of "Once In a Lifetime," which included one of Byrne's strongest vocal performances, which would have been perfect if they guy standing behind you wasn't singing out the Byrne part even louder than the P.A. (If you read this smartly dressed guy in row S with a seat in the low 30s, people paid to hear Byrne sing/talk that lyric, not your best imitation of Byrne, which was spot on actually, and probably fun at house parties, but in this setting not so much). Byrne didn't echo the choppy hand gestures from his earlier videos, but seemed to play the role of a burned out older guy waking up to a nightmare Twilight Zone reality. Byrne knows his crowd and expected us to yell back to him the questions he asks himself, "How did I get here?" and "My God! What have I done?" And sing along to the chorus, and for at least one guy, a chance to show off his karaoke skills. Okay, probably more than one.
"Doing the Right Thing," from the new one, came next with Byrne alone on the stage, with the instrumentalists all behind the stringed walls on the sides of the stage, only their instruments sticking out into view for the quieter number. But Byrne must have become distracted by the light put out by the large video screens on each side of the stage, as he insisted they be turned off following that song. "After all," he said, "the show is up here, not out there." It took a few minutes, but he insisted "We won't play another note until they're turned off, their so bright. I'll wait." But the folk at the venue were quick to take him seriously and it only took a couple minutes.
Byrne introduced the next song, co-written with Fatboy Slim, "Toe Jam," warning that if you check out the video it's definitely NSFW," and his live version skipped the rap part that had been done by Dizzee Rascal. Next came a more obscure TH track, "Born Under Punches (The Heat Goes On)" which found Byrne briefly back on guitar, but soon had his entire eleven piece band all lined up beside him, which gave each one a moment for a brief solo, and he followed the song with band introductions. Following that the lights dropped and the whole crew laid down on the stage, with a spotlight each one rose in time as the band came together around the song, "I Dance Like This," the opening track from the new album, which got 8 songs into the set, and appropriately had some (purposely) bad dance moves, which accompanied the lyric, "if we could dance better, well, you know that we would."
Two more from "American Utopia" followed, "Bullet," a second by second description of what happens when a person is shot, with Byrne standing center stage with only a bright light on a stand without a stage behind him. Then "Every Day Is a Miracle," perhaps the most uplifting song in Byrne's repertoire, which asks the question that shows up on one of the tour t-shirts: "What does it feel like to by your tongue moving around in your mouth?" before asserting that in life we have to "sing for your supper/Love one another."
Next came "Like Humans Do," from the 2001 album "Look into the Eyeballs," which emphasizes Byrne's unique lyrical perspective, which at times sounds like an alien anthropologist from another planet, describing what he's seen from us while visiting earth. It was followed by the Heads' light funk of "Blind," which featured a cool lighting effect which gave Byrne a shadow as tall as the back wall of the stage, and set up the set closing rave-up everyone was expecting, "Burning Down the House," with Byrne playing acoustic guitar, just like the original recording. The 85 minute set followed the set list he's used all summer, no doubt required by a show with such tightly tuned choreography, lighting cues and theatrical staging. That said, Byrne, currently 66, was limber and energetic throughout, displaying a variety of dance moves from previous videos and live performances, running in place, backwards and forwards, doing that surf board move where his feet are still, but his knees and hips shimmy and shake. He was exactly what you hoped for, going back to his big Talking Heads shows in the big suit, on the "Speaking In Tongues" tour.
That said, with his "hits" behind him, Byrne came out to encore with a celebration of disco (No "Life During Wartime," sadly), playing a song for his musical about the life of Imelda Marcos, "Here Lies Love," also written with Fatboy Slim, which he introduced assuring us that every word of the lyrics were spoken by the woman herself. Then they played another rousing Talking Heads song, "The Great Curve" before leaving the stage again.
Then, for the final encore, they did a cover of a song by Janelle Monae that has become an anthem of the Black Lives Matter movement, "Hell You Talmbout" with its call & response with its shout out to victims of violence, often at the hands of police. "Say his name, say her name" they shout while repeating names all the way back to Emmett Till, whose lynching sparked civil rights protests, to modern day names in the news: Trayvon Martin, Walter Scott, Eric Garner, Freddie Gray, Sandra Bland. Its not easy to know if the largely white crowd realized they were being encouraged to cry out for justice on behalf of disenfranchised people of color who had been killed too young, but the crowd continued to dance along, and some of us said their names.
In the end, a good time was had by all, and some of us were a bit more aware of how far we've come from that original vision of an American utopia, and were more committed to vote, and make a difference.
Opening the show as Byrne's hand-picked special guest for this tour, Benjamin Clementine, an African British citizen who currently resides in Paris. He performed an avant garde set at a baby grand piano with a synthesizer on top, accompanied only by a back up player on bass mostly, but guitar on one song, but both were heavily effected to mirror the sounds of cellos or other instruments, at one point a circus calliope. Clementine is praised for his poetry, and songs that offer operatic interplay, but while his voice was easily heard, his words were often less than decipherable. He had a high falsetto at times that sounded like Monty Python characters imitating the voices of women, and at others rang out with a lovely melodic melancholy. His songs were nothing if not curious, and intriguing, while playing for a crowd that applauded at the end of each composition but tend to make small talk during the songs themselves, it's hard to know if he really broke through to create any new fans… but at least some of us came home to see what Google had to say about his unique, quirky sound.
– Reviewed by Brian Q. Newcomb
Brian Quincy Newcomb has found work as rock critic and music journalist since the early 80's, contributing over the years to Billboard Magazine, Paste, The Riverfront Times, and The St. Louis Post-Dispatch.
Latest posts by Brian Q. Newcomb (see all)
Please follow and like us: