Beck


Colors
Fonograf/Capitol Records [2017]


Fire Note Says: Beck knows that we just need a safe place where we can boogie.
Album Review: A funny thing happened back in 2015 when Beck won three Grammys for his album Morning Phase, released the previous year; the album picked up the prestigious awards for Album of the Year, Best Engineered Album (Non-Classical), and Best Rock Album. Now it's a common source of frustration among rock, rap, alternative and metal fans when these awards surface with what we all know are artists placed in the wrong categories (Jethro Tull won the first Metal Grammy), or even worse a worthy artistic album (and our favorite) is overlooked for the better selling pop based act that we know doesn't deserve the accolades. But, with Beck's choice, it was different. While Morning Phase is a delightful album, it was not selling gangbusters (at least before it won the award), and nobody thought it was really a "rock" album.
So after winning all that attention for what was a lovely sophisticated folk/pop album, it was only a few months later in 2015 that Beck debuted the first single from his new album, an up-tempo rockin' dance number, "Dreams." It's like he was making amends. Now, over two years later, Colors arrives right after Beck's opening slot on the last leg of U2's 30th Anniversary Joshua Tree tour, and its a great big shiny pop rock record with bright shimmery production values that recall the 80's fascination with danceable electronic new wave.
This shouldn't be a big surprise for those who can follow Beck all the way back to his earliest hit, "Loser," with its hip-hop nonsense verses and the irresistible, hooky "why don't you kill me?" chorus. Beck has been nothing if not a musical chameleon with a encyclopedic knowledge of the way musical styles ebb and flow. Remember Odelay (1996), his biggest selling album with some his fans' most cherished hits, the hip-hop tribute "Where It's At," and the goofy fun of singles/videos for "Devil's Haircut" and "The New Pollution," which he followed with the maudlin balladry of Mutations (1998), which he followed with his funky, funny, rockin' Midnight Vultures (1999), which he followed with the reflective, darker, sensitive folk rooted songs of Sea Change (2002). And so it goes, Beck makes a quieter emotionally vulnerable project, but then faced with the need/desire to tour he goes in and makes a big, loud, bold pop/rock album designed to have the desired impact on live audiences. Thus, Colors.
This time around, Beck and his collaborator/co-producer Greg Kurstin, who is best known for work with pop acts like Adele, Tegan and Sara, Pink and Sia, but who also produced the recent releases by the Foo Fighters and The Shins, primarily make the studio their instrument. From the opening tones of the album's title track, the synths percolate with rhythm, there are spacey ethereal breathy moments, that slide into those hooky dance choruses that ask "do you feel alive?" while a keyboard produces as sound similar to a recorder/flute… and the whole thing is dying for a dance remix, 8's style. "Seventh Heaven" follows suit, synth sounds cascade like a waterfall, but the drum track is designed for maximum pleasure on the dance floor. The whole album is an invitation to leave your troubles at the door, and come into a world that is without worries, because "I'm So Free" and so are you.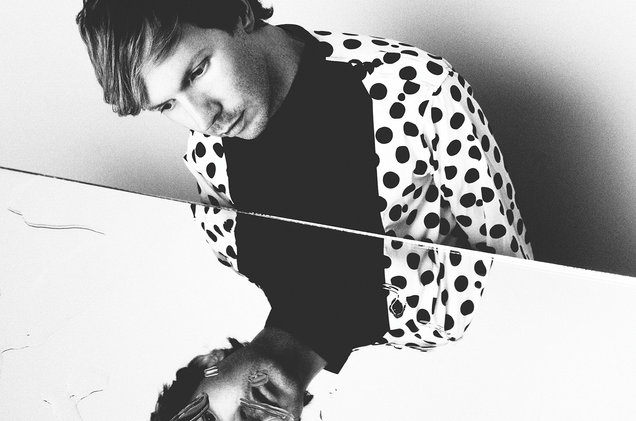 Beck is masterful mixing media. He drops some fast hip-hop rhyming into the latest one, and there are guitars outlining the bolder rhythms, but the glossy texture never loses its glimmering finish, as it offers the message of dance floor rebellion: "nobody's gonna keep me down." This pattern continues with "Dear Life," built around a bit of rock & roll piano, but there's a bit more of a warning in the verse that may be addressing the troubles that await outside the dance club door: "you drove your Rolls into the swamp and stole away like a thief feeling from the sticker shock of the price they put upon your soul, you'd buy it back from the burning ashes of the devil you know." The old phrase still applies, if you're going to dance, you will pay the piper.
"Dreams," gets a album version mix so that the song's original melodic chorus returns after the middle crunchy guitar chord break that leads to a dissolve on the radio version. But if Beck sees a dark, ironic underbelly to all this dreamy dance music escapism free of distractions, it's in the verses and not the big sing-along anthemic hooks. In "Wow" he might rap about how "nothing's ever right or wrong/it's irrelevant/elephant in the room goes boom/standing on the lawn doing Jiu Jitsu/girl in a bikini with a Lamborghini shih tzu/it's your life…" but obviously it's not your life or mine… it's all fantasy, so just look around, enjoy the ride and say, "wow…"
Why let the real world harsh your buzz, dive into the 80's disco glory and stay "Up All Night," because soon enough the sun will rise and you'll be back to "Square One," which offers this advice: "this is life and it's alright/taking detours in your mind/you'll be fine if you try to keep your eyes on the consolation prize/when you lower your expectations… going to have to beg, steal or borrow/it's all part of the plan… when you're down hard for the girl." This may not be the life you dreamed or, but Beck and Kurstin have created a respite, an oasis in the angry, dry desert of reality, an escape to a brighter, better world. So, don't worry about the man behind the curtain, the wizard has artfully delivered a lush alternative reality, lush with the promise of love and the chance that all of this might "Fix Me." Beck knows that "sometimes it's cruel" ("No Disctractions"), and we just need a safe place where we can "boogie to the left/boogie to the right…" and on Colors he's more than happy to oblige.
Key Tracks: "Dreams" / "I'm So Free" / "No Distraction"
Artists With Similar Fire: INXS / David Bowie (Let's Dance era) / Wham!
Beck Website
Beck Facebook
Capitol Records
– Reviewed by Brian Q. Newcomb
Brian Quincy Newcomb has found work as rock critic and music journalist since the early 80's, contributing over the years to Billboard Magazine, Paste, The Riverfront Times, and The St. Louis Post-Dispatch.
Latest posts by Brian Q. Newcomb (see all)
Please follow and like us: