Roger Waters


Is This The Life We Really Want?
Columbia Records [2017]


Fire Note Says: Roger Waters creates a soundtrack for the resistance to Trump's American dream, echoing his past work with Pink Floyd.
Album Review: Roger Waters is angry. Let me rephrase that: Roger Waters is ANGRY! Of course, if you've been paying attention all the way back to Pink Floyd and albums like Animals and The Wall, and his last solo rock album, Amused to Death (thematically based on Neil Postman's book, "Amusing Ourselves to Death," a critique of how mass media turns news into entertainment"), which featured an ape staring at a television on the cover, to recognize that Waters was producing art that was anti-authoritian, anti-Fascist, anti-greed & corporate manipulations and an economy dependent on mass consumerism & advertising. Even big hits from Dark Side of the Moon, like "Money" and "Us and Them" offer a profound cultural critique that has been no doubt softened by familiarity.
So, you won't be surprised that Waters is… let's say "troubled" by the shape of the world in the era of Trump, who he refers to as "a leader with no brains," and as "a nincompoop (who) becomes president." So, if you find yourself wanting to escape the 24 hour a day news merry-go-round, of if you want a wall of separation between your music/art/entertainment experience and the world of politics, or you're tired of how the left leaning media won't 'get in line' and 'give him a chance,' then this is not the album for you. And if that's you, no matter how much you love all those old Pink Floyd songs that Waters is playing live on his new stadium tour, you'll want to avoid it since graphics displayed during tracks like "Pigs (Three Different Ones)" are aimed at discrediting our currently elected leader.
That said, on Waters' first rock album (a distinction made necessary by Waters' 2005 release of a French opera titled, Ça Ira) in 25 years, does in many way recall the musical directions and tone of his work dating back to some of Pink Floyd's most successful records. Long-time listeners will recognize how Waters' solo work differs from Floyd contributors, guitarist David Gilmore and keyboardist Richard Wright, although on songs like "Wait For Her" and here and there throughout the album, producer Nigel Godrich has played and brought together other players quite capable of recreating that larger Pink Floyd sound.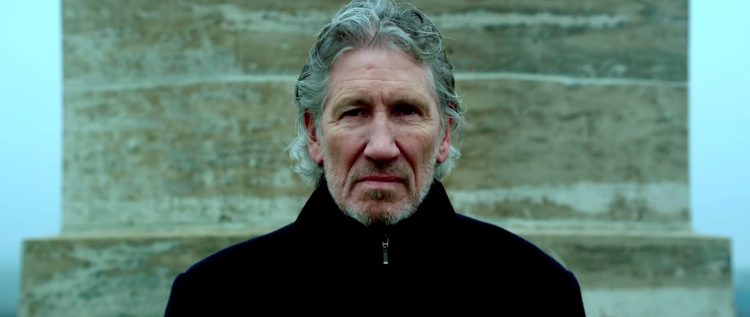 But don't let the music get you nostalgic, Waters is laser focused on this current political moment, it's many injustices in general and the American indifference to the refugee crisis specifically, in songs "The Last Refugee," "Bird in a Gale," and "Broken Bones," which contains a reference to the words on the Statue of Liberty, and "how we abandoned thee." The album's title track actually includes President Trump's voice in the opening, opining on his electoral college victory, before asking the existential question at the heart of this album: are we really willing to say this is normal, "Is This the Live We Really Want?" Elsewhere, Waters calls out the "bullshit and lies," and concludes in the final song ("Part of Me Died") that "it would be better to die in her arms, than linger in a lifetime of regret."
There's not subtlety here, Waters has produced a musical anthem for the political resistance movement to the current American administration. That he's also made a strong album musically may get lost in the album's politics, overlooked by those looking for agreement, and those who disagree ideologically and are turned off by his ardent display of protest. Looking back on the history of rock music, it might be worth pointing out that some of the greatest music out there – for instance Marvin Gaye's What's Going On, Crosby, Stills, Nash, & Young's 4 Way Street (live), Bob Dylan's The Times They Are a-Changin', The Clash's London Calling, to name but a few – were song's of political and social protest. But if you're defending the status quo, that argument will fall on deaf ears, unless of course you're angry too.
Key Tracks: "Smell The Roses" / "Deja Vu" / "The Last Refugee"
Artists With Similar Fire: Pete Townshend / Neil Young / David Bowie
Roger Waters Website
Roger Waters Facebook
Columbia Records
– Reviewed by Brian Q. Newcomb
Brian Quincy Newcomb has found work as rock critic and music journalist since the early 80's, contributing over the years to Billboard Magazine, Paste, The Riverfront Times, and The St. Louis Post-Dispatch.
Latest posts by Brian Q. Newcomb (see all)
Please follow and like us: