The Splits


II
Dirtnap Records [2015]



Fire Note Says: The Splits take no prisoners on sophomore album II.
Album Review: Helsinki's Splits have just arrived on the US shore with their sophomore album, II. The record is a care free 70's punk ride with a complete in your face attitude that never lets up for its entire 25 minutes. It really is such a simple concept – desperate lyrics, memorable rock riffs, melodic call outs, bottled energy and an addicting growling female lead vocal.
The ruckus starts from the opening track, "Rotten Me," that vacillates between solid guitar work and a tear it up hook that will immediately make you give The Splits your full attention. "Two Faces" comes out of the gate second, swinging fists first and asking names second as lead Kiti takes on a Joan Jett like snarl while having an early Courtney Love type attitude. The song swirls with its clashing post-punk and new wave moves behind the scenes, which delivers one of the more unique combinations on the record. Just when you think you have The Splits next track predicted they hit you with the ballad "No Time," which makes you rethink this band completely.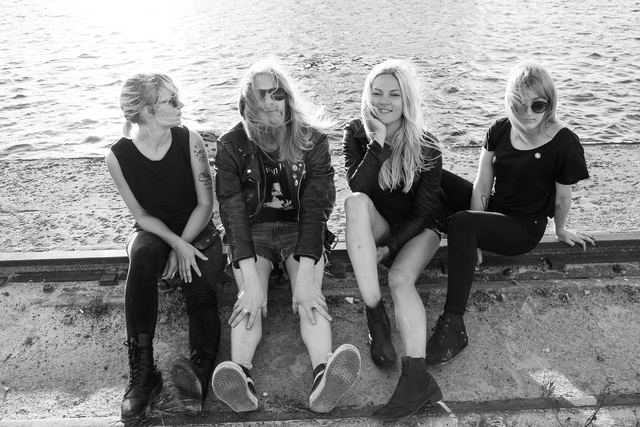 The sheer velocity that some of these tracks come at you, such as "Melody," will be all you need to hear with the power vocals and backup ahh ahhs. The Splits approach this record with the belief that they have created a new sound, which makes the album better. Have we heard it before? Sure, but that is what makes this style of punk so addicting! The Splits make it sound fresh again. I guarantee if there is even just a little bit of you that longs for the trashy punk rock of past groups like The Exploding Hearts, Wipers or Testors then The Splits will be in your wheelhouse. The pure combination of control versus chaos is on full display during II and that dynamic alone will keep you coming back for more.
Key Tracks: "Rotten Me" / "No Time" / "Melody"
Artists With Similar Fire: Hole / Wipers / Marked Men

The Splits Website
The Splits Facebook
Dirtnap Records
– Reviewed by Christopher Anthony

After spending the early 90's managing a record store, the mid to late 90's producing alternative video shows and 00's blogging about the music scene Christopher Anthony is always ready to hear new music.

Latest posts by Christopher Anthony (see all)
Please follow and like us: