Mac DeMarco: Singles Club #1 & #2 [7-Inch Feature]

Mac DeMarco


Singles Club #1 & #2
Captured Tracks [2014]


Subscription based 7-inch projects have all been the rave for 2014 so we could not resist getting in on The Wonderful World of Mac DeMarco 7″ Club Vol. 1 when it was recently announced by Captured Tracks. How can you resist an on the rise artist like DeMarco with a great new record out in Salad Days. Well I can tell you that the first two offerings don't disappoint as you get a closer look at the world of Mac!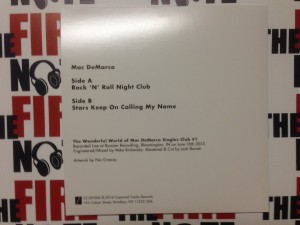 The first 7-inch of the series contains a live version of "Rock 'N' Roll Night Club" on the A-side which is a much more rocked version when compared to the studio version. The B-side is a live version of "Stars Keep On Calling My Name from DeMarco's album 2. The same quicker pace happens on this track live which gives the song a bit more punch. The second 7-inch slows things down as it features a live version of "Only You" on the A-Side which the studio version can be found on DeMarco's debut Rock And Roll Night Club (2012). It actually does the opposite of the first 7-inch because it strips and slows the song down even more than the studio version for excellent results. The B-Side is another slower acoustic based track titled "Eating Like A Kid." Both of these 7-inch versions are from a cassette only release titled Live And Acoustic Vol. 1 (2013) although here they are in reverse track order. These songs also give some insight into DeMarco's laid back stage demeanor as both of these songs have different names which he proudly announces as "Sheryl Crow's Pussy Lips" and "Cum On My Lip". He also challenges to "drink anyone of you motherfuckers under the table after I am done."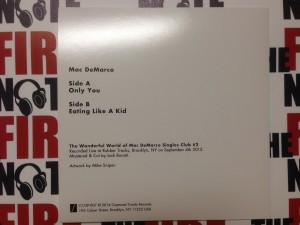 The jacket on both of these 7-inches features portraits of Mac with the first one designed by illustrator Nic Greasy and Captured Tracks co-founder Mike Sniper making a splash with number two. Both come in a nice cardboard jacket and #1 is a translucent blue wax while #2 is a solid blue. The series is limited to 700 copies and the first shipment included a great cassette mixtape titled Greatest Shits by DeMarco along with several sketch drawings. The good news is that if you are interested in this series they are still available at Captured Tracks HERE. Like Mac DeMarco this series is creative and fun. We can't wait to see what will show up next alongside some of our new favorite DeMarco tunes.
Mac DeMarco Website
Mac DeMarco Facebook
Captured Tracks
-Feature by Christopher Anthony

After spending the early 90's managing a record store, the mid to late 90's producing alternative video shows and 00's blogging about the music scene Christopher Anthony is always ready to hear new music.

Latest posts by Christopher Anthony (see all)
Please follow and like us: