Elvis Costello and The Roots


Wise Up Ghost and Other Songs
Blue Note Records [2013]




Fire Note Says: Teaming up with The Roots is an obvious next step on Costello's life-long creative quest!
Album Review: Over the decades, the one time punk rocker Elvis Costello has proved surprisingly versatile in a variety of musically diverse collaborations with artists like Paul McCartney, The Kronos Quartet, Burt Bacharach, Allen Toussaint, and his jazz pianist wife, Diana Krall. He also dabbled in classical on 2004's "Il Sogno," performing with the London Symphony Orchestra, and dove head over heels into country with T Bone Burnett on 2009's "Secret, Profane & Sugarcane," including players like Jerry Douglas, Stuart Duncan, and background vocals by Emmylou Harris and Jim Lauderdale. With that history, this collaboration with hip-hop's premiere band of live players, The Roots, feels less like a surprise and more like an obvious next step for a singer/songwriter on a life-long creative quest.
Of course, Costello has earned a unique place among those artists capable of adapting as the world moves, while maintaining one's singular artistic vision. Growing from on-air collaborations with The Roots at their standing gig as the house-band for "Late Night with Jimmy Fallon" (soon to move upstairs and take over The Tonight Show), drummer/style icon ?uestlove and Costello have taken the idea of a collaboration very seriously. The band's tight, funky tension communicates the darker tone and uncertainty expressed in Costello's lyrics, with smart intrusions from the horn section, Kirk Douglas' searing, at times soaring, guitars, and the softer sweep of the Brent Fischer Orchestra.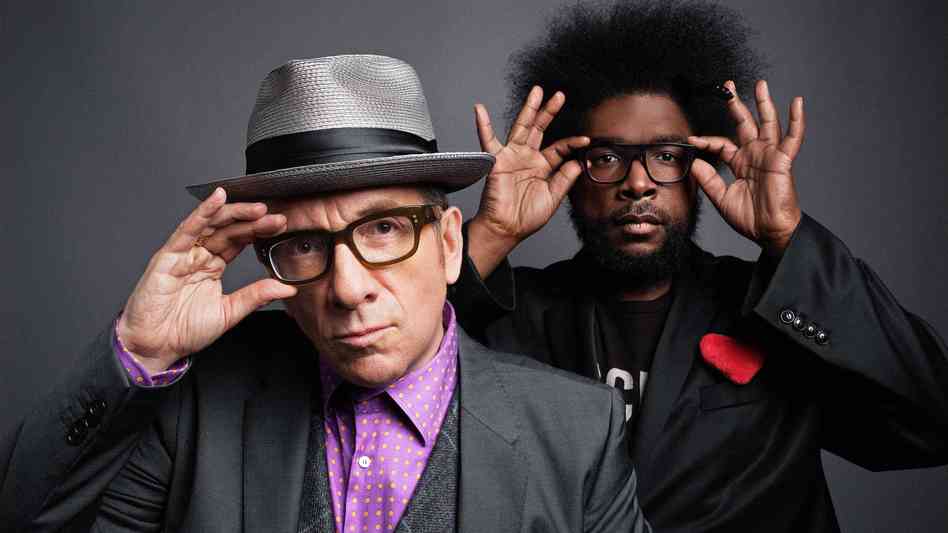 Aside from the brooding, haunted instrumentals, it's the quick step snap of ?uestlove's snare and the snipping bite of Costello's voice, his bark matching the lyric's bite, that gives "Wise Up Ghost" it's central vision. Of course, Costello has covered this tortured economic/political landscape before, on "Armed Forces," "Imperial Ballroom" and elsewhere in his long and distinguished catalog," but here the fretful sense of danger is palpable.
Even the most basic travel is risky due to the inevitable, looming "Tripwire," and secure safe passage requires a cohort willing to "Walk Us Uptown," passed the dangers of "Viceroy's Row." It's time to "Wake Me Up" and face the medicine ("Stick Out Your Tongue," which reworks a previous Costello work, "Pills and Soap"), but "Sugar Won't Work" to make it taste anything but grim. "Come the Meantimes," tells us what we've all suspected, that hope in the face of harsh realities is silly, it's time to "Wise Up Ghost" because we have met the enemy and it is us. That outer tension becomes intimate and personal when "she's pulling the pin" ("[She Might Be A] Grenade"), so that the coming apocalypse threatens it all when your relationship hinges on a quick five minute explanation ("Cinco Minutos Con Vos").
"Cinco Minutos" features the lovely voice of La Marisoul singing in Spanish, which suggests that in love, in the emotional connection, is the balm against the world's violent insanity. It's like the hope offered in the set closing "If I Could Believe," where we hold on all evidence and reason to the contrary. Costello's poetry and prose rises to capture that listless disease, suggesting – like all great art – that the mending, the healing we long for is often right there in our honest creativity, in our ability to make beauty and art from life's ugliest insults.
Key Tracks: "Walk Us Uptown," "Stick Out Your Tongue," "Tripwire"
Artists With Similar Fire: Bob Dylan / Bruce Cockburn / Public Enemy

Elvis Costello Website
Elvis Costello Facebook
Blue Note Records
– Reviewed by Brian Quincy Newcomb
Brian Quincy Newcomb has found work as rock critic and music journalist since the early 80's, contributing over the years to Billboard Magazine, Paste, The Riverfront Times, and The St. Louis Post-Dispatch.
Latest posts by Brian Q. Newcomb (see all)
Please follow and like us: