Helldorado: Bones In The Closet [Album Review]

Helldorado


Bones In The Closet
CCAP Records [2013]



Fire Note Says: Grab a whiskey, hat and cigar for Helldorado's journey to the border on their entertaining new record Bones In The Closet.
Album Review: Here is an interesting release from Norway's Helldorado. The band has been in existence since 2001 and Bones In The Closet represents their fourth long player so they have a strong track record in their native homeland. To the rest of the world, Bones In The Closet will be the first experience for most ears and trying to define their sound is a little tricky because they combine about seven different music styles into this record.
Opening track "Gallow's Bird" starts off with a rapid fire drum beat before the mariachi horns kick in and Dag Vagle's throaty vocals add more fuel to the kindling. It is an energetic beginning to a wild ride as the next track, "Misery And Woe", is much slower and almost theatric like a smoldering Nick Cave track complete with some swaying piano that is held together with the appearance of the mariachi horns again. You might think you have Helldorado figured out but then the straight out rock song "Dead World" rips at you like a meld between the The Hives and The Kinks. I know it sounds weird but the song really worked for me with its old school rock flow and bursting vocals.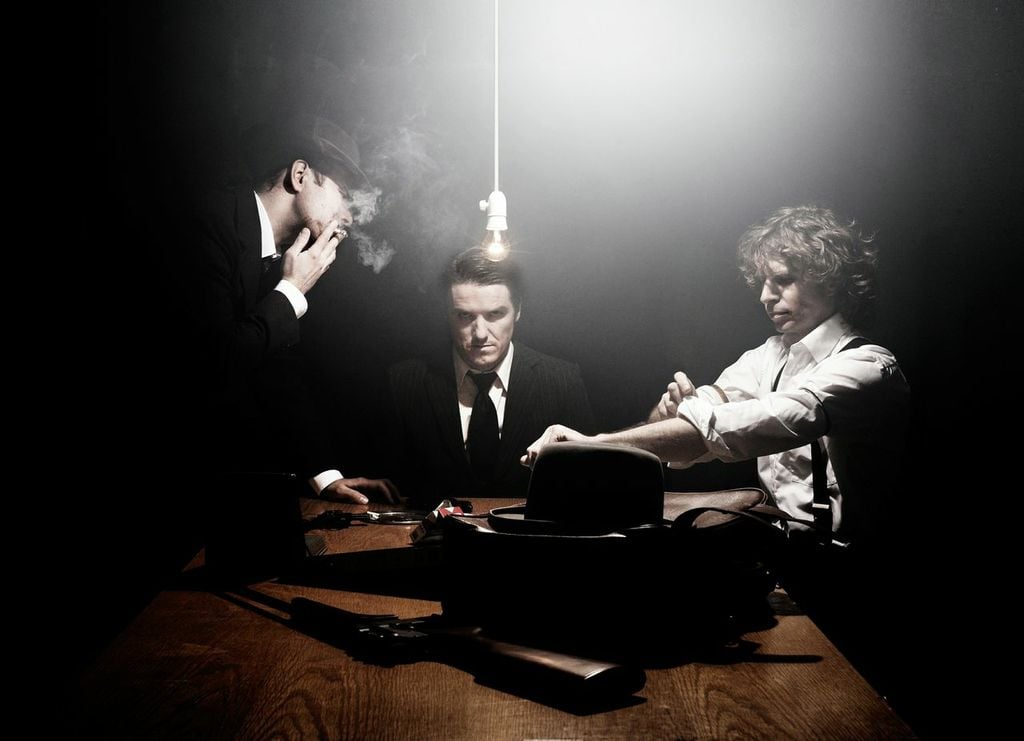 Helldorado continue this moving sound target as Bones In The Closet title track has this very Southern Mexican saloon vibe going on that gets better with every spin. This continual guessing game of style is held together with this overall border theme complete with the mariachi horns. Each song sounds like it could be in the next Tarantino film with its swagger and retro yet modern delivery.
Bones In The Closet gets its strength from its slightly raw production. The record has this edge to it the entire way through and keeps its listeners wanting more especially after the surfy-western instrumental closer "Sixty Seconds To What?" which reminded me of Ennio Morricone's theme song to The Good, The Bad, And The Ugly. With the record's quick song tempo shifts I think some listeners might get lost in the shuffle that could have been improved from a little better sequencing. That is just a small criticism that will not be the case for everyone because overall Helldorado show off their experience on Bones In The Closet and make themselves a valuable import. Bones In The Closet turns out to be something new and fresh for a satisfying listen and well worth seeking out to hear it!
Key Tracks: "Dead World", "Bones In The Closet", "John McMiller"
Artists With Similar Fire: The Hives / Nick Cave / Mariachi El Bronx
Helldorado Website
Helldorado Facebook
CCAP Records
-Reviewed by Christopher Anthony

After spending the early 90's managing a record store, the mid to late 90's producing alternative video shows and 00's blogging about the music scene Christopher Anthony is always ready to hear new music.

Latest posts by Christopher Anthony (see all)
Please follow and like us: