Deerhunter: Monomania [Album Review]

Deerhunter


Monomania
4AD Records [2013]




Fire Note Says: Another record form Deerhunter with top honors potential!
Album Review: How many times have you been let down from your favorite artist? How many times have you blamed your own high expectations as the reason you just couldn't get into (insert favorite artist here) new record? OK – everyone put your hands down because even if you have great taste, I know this has happened to you. Well how about that feeling when your high expectations actually meet head on with the final product? That is exactly the case here as the new Deerhunter, Monomania, satisfies on many levels by sounding fresh and innovative while still bringing along past components that made their previous albums such a success.
It all starts with the lead off track "Neon Junkyard" that kicks off a basement recording sound with its distorted vocals and somewhat weird background noises. "Leather Jacket II" then follows with a similar laid back and loud vibrations that once again turn singer Bradford Cox's vocals upside down as the guitar line can be heard through the entire energizing racket. At this point you may wonder how this "noise" can be "Headphone Approved"? Well like Deerhunter's past catalog – you need to keep listening. The third track, "The Missing" is a wonder pop song that slows things down and has pristine vocals that hum right through the mid-tempo non-distorted instruments. This track gets your attention because you start to get a big picture feeling of what Monomania is going to offer.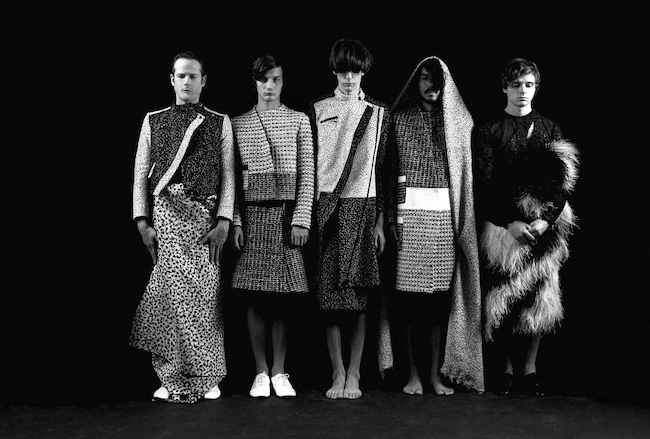 This smorgasbord of sound is the adventure that you are in for. "Pensacola" has hyped up Dylan type vocals driving the knee slapper while "Dream Captain" has a very later era Mark Oliver Everett (Eels) delivery going on as the track bounces to a conclusion. "Sleepwalking" ventures into a psychedelic arena as its guitars create a hazy feeling that melds with the vocals that just sit slightly above the instruments. Then there is the 60's garage rock of the title track that puts a nice exclamation on Monomania as an album that demands more spins. The track tailspins halfway through as the chant "Mono-mono-mania, Mono-mono-mania" starts ringing out for about two straight minutes while the surrounding instruments start to go wild and eventually drown out the vocals. This is what you put a Deerhunter record on for and the band delivers!
Not only is Monomania another feather in Deerhunter's cap but when you also recall that guitarist Lockett Pundt's Lotus Plaza record, Spooky Action At A Distance, ended up #4 on our Top 50 list last year while Cox's other project, Atlas Sound, landed #7 in our 2011 Top 50 list for Parallax and Deerhunter's Halcyon Digest was #3 on the Top 50 in 2010 – consistently good are words that come to mind. Clearly there is a pattern for this band's releases and even though it may take you several spins of Monomania to realize it – this album has the same kind of potential of all the albums before it – it especially means that if you are fan you shouldn't miss it! It also means that if you are new to Deerhunter – Monomania is a fine place to start.
Key Tracks: "The Missing", "Monomania", "Dream Captain"
Artists With Similar Fire: Ty Segall / Beck / Spiritualized
Deerhunter Website
Deerhunter Facebook
4AD Records
-Reviewed by Christopher Anthony

After spending the early 90's managing a record store, the mid to late 90's producing alternative video shows and 00's blogging about the music scene Christopher Anthony is always ready to hear new music.

Latest posts by Christopher Anthony (see all)
Please follow and like us: