Joshua James: From The Top Of Willamette Mountain [Album Review]

Joshua James


From The Top Of Willamette Mountain
Intelligent Noise Records [2012]



Fire Note Says: Joshua James releases a tender album with his third LP.
Album Review: Joshua James is a singer-songwriter from Nebraska who has settled in Utah. From The Top of Willamette Mountain is his third album that he has released. Not being familiar with his first two releases, I walked into this release with no expectations. What I found was an LP with a few standout tracks and consistently strong songwriting and track construction.
The first time I listened to From The Top of Willamette Mountain two songs immediately caught my attention. The first of these, "So Did I," is a 3-minute number that opens with spare instrumentation and haunting vocals. Gradually guitar and percussion are introduced and backup vocals create a harmonic experience that created a hook that I would describe as an earworm. The track's not especially forceful in how it approaches you; it invites you in and feels very warm. It is also a bit sad and comforting at the same time. The second song that made me pause was "Sister," which is buried on the second half of the album. There is talk of fire and suicide bombs and in general heavy subject matter. As with "So Did I" there is a soft verse that crescendos to a heavier chorus. James spits out the chorus the second time around and I could hear the intensity behind the words. This intensity with another great hook made "Sister" a keeper in my book. The remaining tracks have a strong folk influence and tended to blend together for me. I think with more listens some of the nuances of the album would shine – I found my fourth listen to "Mystic," the album's opener, much more rewarding than the first listen.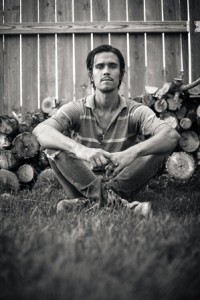 From The Top of Willamette Mountain is a solid release from Joshua James. At times I felt as if I were transported back to the 1970s and listening to Jim Croce or John Denver. The ambiance that James creates fits in with that time period. For fans of the folk and singer-songwriter genre From The Top of Willamette Mountain is worth exploring with some depth. For those who need a bit more pep in their step, James' latest release will not scratch that itch.
Key Tracks: " So Did I", "Sister", "Mystic"
Artists With Similar Fire: The Mountain Goats / M. Ward / Josh Ritter
Joshua James Website
Joshua James Facebook
Intelligent Noise Records
-Reviewed by Matthew Heiner

I appreciate being able to write for The Fire Note, as it gives me an excuse to keep up with what's happening in new music.

By day I am a dad and a psychologist; I often use music as a way to connect with both my kids and my clients. One of my proudest moments as a father was when my 12-year-old daughter told me of her undying love for Radiohead.

Latest posts by Matthew Heiner (see all)
Please follow and like us: