The Mountain Goats: Transcendental Youth [Album Review]

The Mountain Goats


Transcendental Youth
Merge Records [2012]



Fire Note Says: The Mountain Goats 14th LP Transcendental Youth is as earnest as ever.
Album Review: The Mountain Goats is fueled by John Darnielle, who has collaborated with many performers over the years under the band's moniker. On the band's 14th album, Transcendental Youth, the quality of the sound and concept of the album remains strong. This is a tremendous feat given the sheer quantity of art that Darnielle has produced. Transcendental Youth has an immediacy to it that sucked me in from the first track. I was surprised by this, given that I have rarely been sucked into a Mountain Goats album before.
Transcendental Youth begins with "Amy aka Spent Gladiator 1" which is an upbeat number and kicks the album off to a hopeful start. Well, as far as the music goes. Lyrically the opening track focuses on just staying alive and the stupidity that kindles that feeling of being alive. It does seem as if Darnielle is preaching what he wants others to do but eventually turns the lyrics on himself. "Harlem Roulette" is a propulsive track that tells the story of lonely people and awful dreams. I really liked it. The next song, "White Cedar," slows things down a bit with a simple piano accompaniment. Horns and strings gradually make their way into the arrangement and it seems to build an inevitable crescendo that never comes. "Night Light" is urgent and tells the story of reconnection that may never happen. The contrast between these three tracks typify the diversity within the album. Upbeat pop, beautiful ballads, and urgent rock are all present on Transcendental Youth.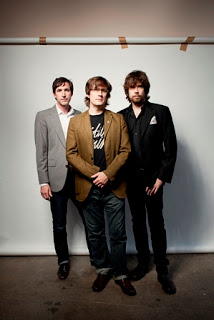 The Mountain Goats have been a band I've appreciated from a distance in the past. Digging into this album helped me appreciate the talents of John Darnielle, in particular because of the consistency of his work. His story-telling and ability to change things up musically kept things from getting bogged down. Yes, at times the songs can come across as heavy-handed but I found that I could look past that most of the time.
Key Tracks: "Harlem Roulette", "White Cedar", "Night Light"
Artists With Similar Fire: The Decemberists / The Shins / Andrew Bird
The Mountain Goats Website
The Mountain Goats Facebook
Merge Records
-Reviewed by Matthew Heiner

I appreciate being able to write for The Fire Note, as it gives me an excuse to keep up with what's happening in new music.

By day I am a dad and a psychologist; I often use music as a way to connect with both my kids and my clients. One of my proudest moments as a father was when my 12-year-old daughter told me of her undying love for Radiohead.

Latest posts by Matthew Heiner (see all)
Please follow and like us: