Thumpers


Galore
Sub Pop Records [2014]



Fire Note Says: Thumpers debut has its moments but runs a tad long.
Album Review: It always interest me when labels venture outside their perceived niche. Anymore not so much with Sub Pop Records but I think London's Thumpers debut, Galore, will still make you raise an eyebrow with its dance pop sweet undertone as they are far away from that "Sub Pop" sound. It is a record that uses the motto "go big, or go home" with its sprawling sonic attack but in the nicest way possible.
The duo of Marcus Pepperell (vocals, guitar, keys) and John Hamson Jr. (drums, vocals, bass), have a true chemistry that is a result of being friends since age 11. Galore feels complete with its first four tracks of glossy alternative pop that comes complete with big instruments, soaring choruses and layered vocals. The rhythmic drumming that backs up "Dancing's Done" gives the track a very likable edge while the sharp catchy vocal changes drive "Sound of Screams." Both of these elements also fill "Unkinder (A Tougher Love)" that can fit on a dance floor as well as a summer drive down the boulevard. Not a track for everyday but a song that has merit and holds promise for Thumpers.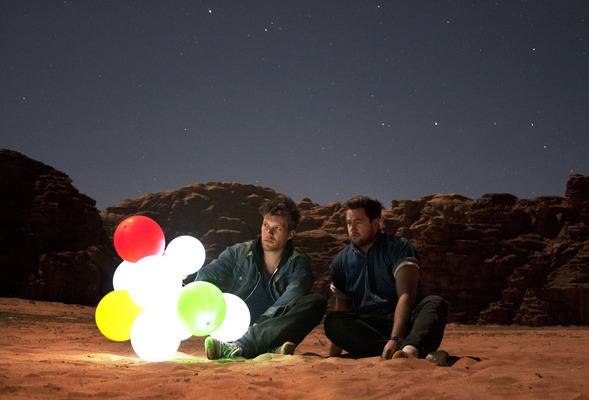 The issues arise as Galore moves into its mid-album track sequencing and the songs keep taking a similar path with less memorable results. It is one of those records that I feel would have been a descent EP but once Thumpers start reaching to fill the 45 minute running time, songs like "Roller," "Tame" and "Running Rope" all seem to have a familiar pattern.
There is a chance that Thumpers could catch on as several of these songs scream radio and TV but overall the record feels a little too familiar and long after you reach the finish line. I would like to hear the group expand a little more on their Vampire Weekend type rhythms and melodies because Galore does have its moments. I think getting the debut out of the gate will give the Thumpers a chance to refine and grow their sound while maintaining a relationship with Sub Pop should only help the band's progression into the more swagger world of an Animal Collective or Bombay Bicycle Club.
Key Tracks: "Dancing's Done", "Unkinder (A Tougher Love)", "Sound of Screams"
Artists With Similar Fire: Vampire Weekend / tUnE-yArDs / Bombay Bicycle Club

Thumpers Website
Thumpers Facebook
Sub Pop Records
– Reviewed by Christopher Anthony

Latest posts by Christopher Anthony
(see all)