The Walkmen


Heaven
Fat Possum Records [2012]



Fire Note Says: The Walkmen release another stellar album with the graceful Heaven!
Album Review: One could say that The Walkmen have hit their stride but I believe this top end streak started about 4 years ago and has never halted evidenced by the excellent You & Me [2008], Libson [2010] and now the newly released six studio full length Heaven. It does not really feel like it but The Walkmen have now been in existence for 10 years and that veteran status has never felt stronger than on Heaven's 47 minutes.
The record is a patient listen as many songs evolve and build but all of them contain an important swagger that not only keeps your interest but makes you want to come right back. Right from the opening track "We Can't Be Beat" you get a full two minutes of singer Hamilton Leithauser simply singing the lines over a quiet accompaniment before the band starts to harmonize which also includes Robin Peckinfold (Fleet Foxes) in the mix. The song effortlessly marches till the end and sets you up for the swaying next track "Love Is Luck" which possesses some of the more vocal outbursts from Leithauser that has always been an endearing staple for the band.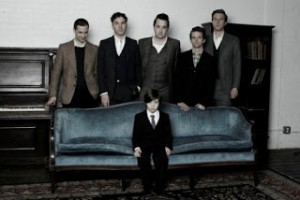 Heaven's "its not a sprint but a marathon" attitude can be attributed to producer Phil Ek (Fleet Foxes, Band Of Horses, Sea Wolf) as its overall sound mirrors his successful ventures and the band admittedly trusted him to try new things. The very silent "Southern Heart" is one of those tracks that just features Hamilton telling its story and as the song just falls off at the end he politely sings "Tell me again how you loved all the men you were after". The following track "Line By Line" finds Leithauser once again hovering his vocals over a guitar line which shows off a new vulnerability to the band that has not necessarily been explored.
Now before you start to think that Heaven is more of a slow burn there are plenty of tracks on here that represent The Walkmen's old style such as the upbeat foot tapper "Heartbreaker" and the upbeat single "Heaven". Both of these tracks are highlights and both still have a confident sparkle to them that will be familiar to long time followers even though it does not have the reckless abandon vibe that filled their earlier records. For The Walkmen this was never bad thing but on Heaven you can hear their evolvement and can respect their current place because it is nothing but quality. This quality is what makes Heaven so dynamic and it really does not matter if it is a new avenue or old tricks The Walkmen have once again released a record that will earn some attention at the end of year and play masterfully way past 2012!
Key Tracks: "Heartbreaker", "Heaven", "Southern Heart"
Artists With Similar Fire: Fleet Foxes / Okkervil River / Arcade Fire
The Walkmen Website
The Walkmen Facebook
Fat Possum Records
-Reviewed by Christopher Anthony

Latest posts by Christopher Anthony
(see all)