The Moons


Fables Of History
Schnitzel Records [2012]



Fire Note Says: The Moons sophomore album, Fables of History, brings the best of British music's past forward!
Album Review: Every once in a while a record comes across from the UK that has a retro Beatles, soul and 60's vibe all wrapped tightly into one nice 40 minute package. That current record happens to be the sophomore effort from Northampton's The Moons titled Fables of History. It may not surprise you that The Moons lead singer/guitarist, Andy Croft, is Paul Weller's keyboard player as many of songs here have a strong Weller influence.
Right from the opening track, "Be Not Me", there is no escaping this classic British invasion from The Moons with the song's sharp 60's key playing, the quick peppy vocal delivery in unison with the drum beat, its psychedelic closing to even getting in "she's only worth one English pound" in the first verse – there is no mistaking where Fables of History originated from. Now if you are like me at all you instantly gravitate towards a record like this and open your speakers immediately to The Moons. What helps Fables of History succeed is that even though you can hear the classic influences the record is very modern. "Forever Came Today" is a big sprawling guitar foot tapper while "Double Vision Love" has a very psychedelic Blur vibe going on.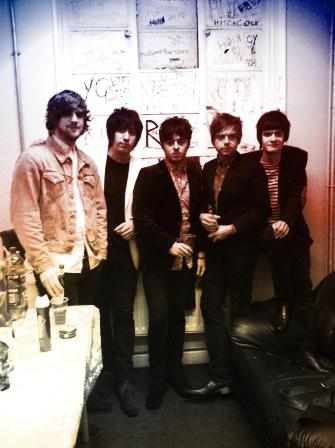 The other tracks all fall in line with this same classic British sound that can be all Beatles like with the strolling "English Summer" while "Something Soon" can sway to a bit more Rolling Stones and is one of the strongest tracks on the album as it also features Paul Weller on support vocal duty. The Moons have pulled off a great trick on Fables of History because even though the record clearly lives in the past the songs here are sincere, passionate, and breathe Britain's modern day. With The Moons tight musicianship, catchy harmonies and perfectly played pscyedelica the band pays great odes to their icons while putting out an album that can be enjoyed by today's generation!
Key Tracks: "Jennifer (Sits Alone)", "Something Soon", "Double Vision Love"
Artists With Similar Fire: Ocean Colour Scene / The Jam / Beady Eye
The Moons Website
The Moons Facebook
Schnitzel Records
-Reviewed by Christopher Anthony

Latest posts by Christopher Anthony
(see all)