The Afghan Whigs


Do To The Beast
Sub Pop Records [2014]



Fire Note Says: 16 years? No problem – The Afghan Whigs pick right back up where they left off!
Album Review: If you caught The Afghan Whigs 2012 reunion tour, you probably were not that surprised to hear the announcement of the band's first record release in 16 years – Do To The Beast. That tour showed off that the Whigs still had every bit of passion and power that they possessed in the 90's, so it only made sense that it would work its way into a full length. If you have followed lead singer Greg Dulli's side projects like The Gutter Twins and The Twilight Singers you also know that each of those last group's offerings were rocked up and turned out to be the perfect catalyst to bring Greg full circle.
The reunification plan takes no time to take off as album opener "Parked Outside" is one the meatiest rockin' tracks that the Whigs have released. It's driving guitar riff and loud steady drum pound creates an edgy pulse and is the perfect welcome home statement that is complete with Greg's throaty vocals. This song will also relieve any longtime fans that were concerned that original guitarist Rick McCollum is not on this record. It also helps that Clay Tarver (of Chavez) added his own unique style to "Parked Outside" while another guitarist, Mark McGuire (of Emeralds), gives album standout "The Lottery" a little different vibe and technique but together they fill the void left by McCollum and fit right in with the overall Afghan Whigs sound. In fact, "The Lottery" has comparable energy and scaling vocals to Black Love's (1996) "My Enemy."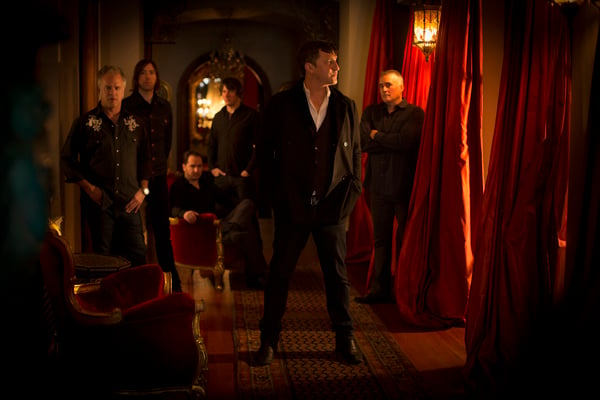 If you have listened to any past Afghan Whigs records than you expect a darker mood that is filled with brooding tension that will dive to your core. Do To The Beast is no different and it will satisfy primal needs. The western sizzle of "Algiers" takes you down an emotional path that feels like pure turmoil but finds Dulli pleasantly singing right through the storm. When he delivers, "Say you'll love me tonight; I feel you now, heavenly demons outside my window" you feel the solitude of the track but its smoothness will win you over. This overall theme of reflection plays a bigger role on Do To The Beast as looking back on life is much easier and important for the band in 2014. Does this drag the album down? Absolutely not, as the Whigs hit it straight on and prove with every guitar, bass and drum interchange that they have not lost a step.
Do To The Beast is a surprisingly really good record from the perspective that it shouldn't be. Sixteen years is an eternity in the music world but The Afghan Whigs sound like they never took a break. For them, to step back in and create the ideal next record coming off the breezy and sultry 1965 (1998) – it just proves how strong of a bond this band maintains. As the album comes to a conclusion, Dulli and the band closes with the epic and sprawling sounding "These Sticks." The track builds in traditional Whigs style and the last words you hear are these quietly sung lines – "I've come to meet you; I've come to make you pay." Think the Afghan Whigs aren't serious – think again. Do you question their purpose in 2014? You shouldn't, as Do To The Beast is not only a natural return to the scene but one that isn't going to take any shit. That is the attitude I expected from The Afghan Whigs and that is exactly what they bring back to the table!
Key Tracks: "Parked Outside", "Algiers", "The Lottery"
Artists With Similar Fire: Dinosaur Jr. / Urge Overkill / The Replacements
The Afghan Whigs Website
The Afghan Whigs Facebook
Sub Pop Records
– Reviewed by Christopher Anthony

Latest posts by Christopher Anthony
(see all)