Ross Jennings
A Shadow Of My Future Self
Graphite Records[2021]


Ross Jennings is not a household name. Nor are either of his bands, Haken and Novena. But Haken are, in fact, one of the few true success stories to be found within the Prog genre (their video for "The Cockroach King" has garnered over two million views on YouTube. For a genre as miniscule as Progressive Rock currently is, Haken is a pretty big deal.) In part owing to their heavy, metal-indebted sound, Haken has established a large and loyal fanbase. Controlled fury combined with a refined sense of melody; every member of the band is a virtuoso. The Gentle Giant influence has also insured that the Prog elite approve of them – despite their relative youth. There is another reason for Haken's rise into the top tier of Modern Prog: their singer Ross Jennings. He possesses one of the most unique and instantly recognizable voices in all of Rock and honestly, that is often the weak link in many contemporary bands.
As the pandemic made touring with either of his bands an impossibility, the opportunity to record a solo album was there, the songs were there but who to call to play on the solo debut? The decision was made to record the album with all new musicians – no one from either Haken or Novena appears on the record. This forced Jennings into doing things differently. And this is the great solo album dilemma: hew to closely to the sound of your main band and you get accused of hoarding material better suited for that purpose, go too far in a different direction and you lose the interest of your baked in fan base. It's kind of a no-win situation. Haken, however, has had enough variety within their songs that some exploration into new musical territories could have been expected but that doesn't mean these new songs will be accepted by the Haken faithful. Jennings seems very aware of this and throws a couple bones to his Prog fans but the overall feel here is not progressive. This is a song-based collection of tracks that demonstrate a singer/songwriter bend.

The album starts out strong with the Springsteen-indebted "Better Times" and it's clear we are treading over some new terrain. The next song, "Words We Can't Say," is a powerful statement about domestic issues. Ross penned this one in response to some troubles he and his partner were having and actually includes things they had said to each other during a fight. It's depressingly relatable. Things really take off with "Violet," one of the singles already released, It came complete with a video to rival Peter Gabriel's "Sledgehammer." It begins in a Radiohead kinda way only to get all funky and Prince-like. This is a song that could cross over into the mainstream. But it won't. Jennings sequenced this thing like a pro as the most progressive track to be found here comes up next. "The Apologist" is fun and weird and fast and awesome. It's exactly what's needed as the album turns more somber in its middle section. My favorite song is the eight minute "Grounded." Shades of Pink Floyd intoxicate the listener as Ross and the boys vamp on an F major chord forever until a major sax incident breaks out. So cool.
There are not too many artists out there brave enough to make an AOR album these days. But Jennings, via his main band, has earned enough Prog bona fides to go out and do this type of record. Drummer Simen Sandnes, bassist Nathan Navarro (from Devin Townsend's touring band) and keyboard player Vikram Shankar all shine throughout but without showing off. Ross definitely put the right players in place to do this record justice. His voice alone is enough to warrant serious investigation. During my critical listening I was reminded of both Neal Morse's singer/songwriter stuff and also Nick D'Virgilio's most recent album. I guess that makes sense as Jennings, Morse and D'Virgilio have announced a new album, Troika, slated to be released in 2022 – apparently in this same style. In the meantime, I expect to play this one a few dozen more times.
Key Tracks: "Violet" / "The Apologist" / "Grounded"
Artists With Similar Fire: Neal Morse/ Nick D'Virgilio/ Fish
Ross Jennings Website
Ross Jennings Facebook
Graphite Records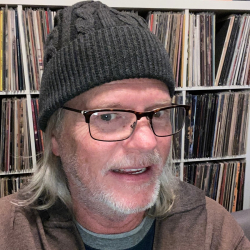 Latest posts by Scot Lade
(see all)