Public Nuisance


Gotta Survive (Reissue)
Third Man Records [2012]



Fire Note Says: Public Nuisance puts together a hodgepodge that if given the time has something for everyone!
Album Review: Before I begin and start saying anything about the music, I have to explain the history and origin of Public Nuisance's Gotta Survive. It all begins in the late 60's in sunny Sacramento, California with Public Nuisance laying down the tracks. It all takes a big turn when the album goes into production under Eirik Wangberg, and the project is overseen by Terry Melcher. In an unexpected twist by way of Beach Boys drummer Dennis Wilson, and the "music career" of Charles Manson – yes that Charles Manson, some sort of connection is established to Melcher. It finally, sadly, culminates in the 1969 Tate murders, Manson instructed Manson family members to go to "that house where Melcher used to live" and "totally destroy everyone in it" one of the members being Roman Polanski's wife Sharon Tate. In this aftermath Melcher's projects including Gotta Survive were shelved. It's only just seen the light of day in 2002 as put out by Frantic Records and has long since been out-of-print until now. The good people at Third Man Records present the new re-release that is Public Nuisance Gotta Survive. With new art work and re-mastered from the two -track analog masters by Ron McMaster (The bands drummer) Gotta Survive gives the listener a schizophrenic psych experience that's not usually heard from artists of this time period. As it says on Third Man's website the record could be considered too heavy for the hippies, and to poppy for the punks.
"Magical Music Box" comes galloping out of the gate with steady strums, thumping beats, and in epic fashion the baroque keys that the time period was known for. "Strawberry Man" hits with the in your face croons of "Charlie don know" and keeps a sunny psych disposition until it turns into an all-out guitar warped fuzz war. It's a nice touch that shows that these guys have more to them than meets the eye. "Love Is a Feeling' almost comes off as a proto- Ramones rocker with some of the heaviest guitar chunk and string bends that make you wonder what comes next. "Holy Man" then takes the psych to a new level with keys providing the back bone to a perfect amount of wah pedal wizardry. The vocals add the right amount of haunt to the song with a ghostly woman wail and drone delivered, reverb tinged lyrics. Title track "Gotta Survive" is all fantastic key arrangements and a huge bass line that encourages the chorus sing along style that envelopes the song. It's the albums most displaced jam, and it's all pure fun, just think of it as Wayne Kramer fronting a rowdy garage psych band. "7 or 10" is a nice break in the form of a finger picked love song that showcases some tender hearted beauty. The final track, "Thoughts" might fit as the most traditional of the bunch with its heavy, swimmy, chorus guitar tones and lazy harmonica tones that invokes a dream like sway. There is a bit of menacing guitar distortion and chords thrown in there to shake things up a bit, but the track makes a fitting end.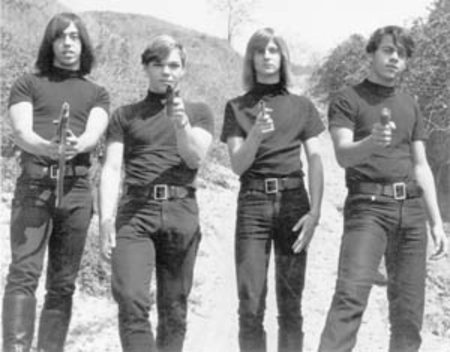 When I was given Public Nuisance's Gotta Survive I wasn't sure why it was considered a gem, why it was music that had to see the light of day. But listen after listen I found something new to enjoy and was grooving a bit harder each time. This one is a grower, but with repeated listens I think there is something in here for everyone.
Key Tracks: "Strawberry Man", "Love Is a Feeling", "Holy Man"
Artists With Similar Fire: The Nazz / The 13th Floor Elevators / The Who
Third Man Records
-Reviewed by Christopher Tahy

Latest posts by Christopher Tahy
(see all)