Nathaniel Rateliff & The Night Sweats


Tearing At The Seams
Stax Records [2018]


Fire Note Says: That S.O.B. Nathaniel Rateliff returns to his roots in R&B and Americana on the strength of the horn-driven Night Sweats.
Album Review: After several years of experimenting around the Denver music scene with alternative rock and folk music combos, Nathaniel Rateliff came to national attention with the R&B horn sound of the Night Sweats on a single that moved from a gospel vocal rave-up to a big band party anthem, largely rooted in the simple pleasure of shouting out the title, "Son of a Bitch." Ironically, a song that details an individual waking up with the D.T. shakes and struggling with the demon alcohol, rocked crowds who ignored the implied hopelessness in the cry "give me a drink."
After touring the songs from that 2015 self-titled debut for a couple years, the band returned to Richard Swift"s (The Shins, Foxygen) Oregon studio to deliver more of the same. Rateliff's got a big voice, in the vein of Sam Cooke or Van Morrison, and can hold his own against the driving rhythm section of bassist Joseph Pope III and drummer Patrick Meese, and the horn section of Andreas Wild, Jeff Dazey, and Scott Frock. They are especially effective on the big band rave-ups like the opener "Shoe Boot" and the sax solo rave up, "Intro." The band's sound is fleshed out by keyboardist Mark Shusterman and lead guitarist Luke Mossman, but for my money their soloing skills are under utilized in the often repetitive riff-driven compositions that Rateliff & the Night Sweats are drawn towards.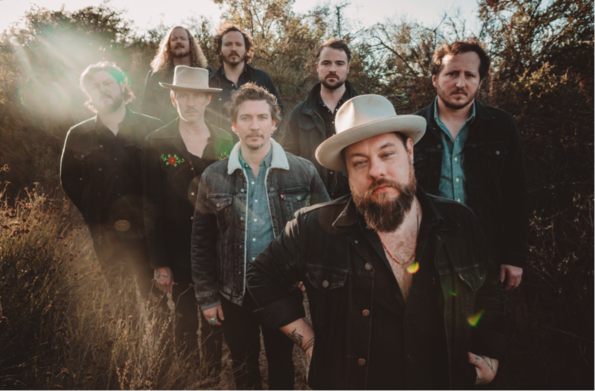 The sound leans toward the big band R&B that has moved music fans to the dance floor for decades, with songs like "Be There," "A Little Honey," "Say It Louder," "Babe, I Know," "Coolin' Out," and "Baby I Lost My Way (But I'm Coming Home)" that follow the predictable patterns of previous soul hits, reminiscent of better songs from days gone by. While Rateliff is a soulful, energized vocalist, often his lyrics settle into repeating lyrics with growing emotional intensity. While I'm sure this is more effective in a live setting, in a sweaty club with fans digging the band's groove, it is less compelling on the home stereo.
But on a few tracks, the songwriting seems to dig a little deeper, strikes a more original tone, like the acoustic leaning ballad "Hey Mama," and the softer rockers that close out the album, "Still Out There Running" and the title track. "You Worry Me," the album's first single, has a solid musical grounding, but it's not likely to evoke the passion that came with a show-stopper like "S.O.B." Lightning doesn't strike twice in the same place, and somewhere between the genuine singer-songwriter vibe of "Hey Mama" and the band's ground stomping workouts like "Intro," is a middle ground where Nathaniel Rateliff & The Night Sweats might achieve something akin to greatness.
Key Tracks: "You Worry Me" / "Hey Mama" / "Intro"
Artists With Similar Fire: Alabama Shakes / Van Morrison / The Avett Brothers
Nathaniel Rateliff & The Night Sweats Website
Nathaniel Rateliff & The Night Sweats Facebook
Stax Records
– Reviewed by Brian Q. Newcomb
Latest posts by Fire Note Staff
(see all)