Lucero


Live From Atlanta
Liberty And Lament Records [2014]


Fire Note Says: Lucero brings their energetic live show right to your record player.
Album Review: Have you ever been to a Lucero show? I had my first taste last year in Detroit rock city at the Magic Stick and I will tell you that Lucero know how to party. They are loose, spontaneous, fun, friendly and really like to drink. What more do you need? Well, how about the hundreds of Lucero faithful that follows this band around and sings every line. Yes, fans are important and Lucero has some of the best. So with a constant tour schedule and big following, a live record only seems natural. The faithful have plenty of bootleg live recordings floating around but Live From Atlanta is finally the perfect canvas to officially show-off one of the hardest working bands on the circuit.
Recorded over three nights in Atlanta's Terminal West, Lucero offers up an energetic and honest 2 hours of music that consists of 32 songs which covers their entire catalog. You heard that right – 2 hours! For most bands that might be a stretch but for Lucero that is the standard. All the way from the opening introduction to lead singer Ben Nichols wishing everyone a good night on the final track, Lucero succeed in offering the full concert experience here. In Lucero's earlier years they were known for rambunctious and somewhat scattered live shows. Now they still make up set lists on the fly and like to have a good time but one listen to Live From Atlanta and you can hear the musicianship. From the horn section coming in strong right away in "On My Way Downtown" to the brilliant piano playing of Rick Steff throughout the record, which receives its own special spotlight near the end of the album with instrumentals "Rick's Boogie" and the following "Bastard's Lullaby" that begins with Nichols saying "if I ever was home – I would sit in my living room, drink a whiskey and listen to this guy play piano."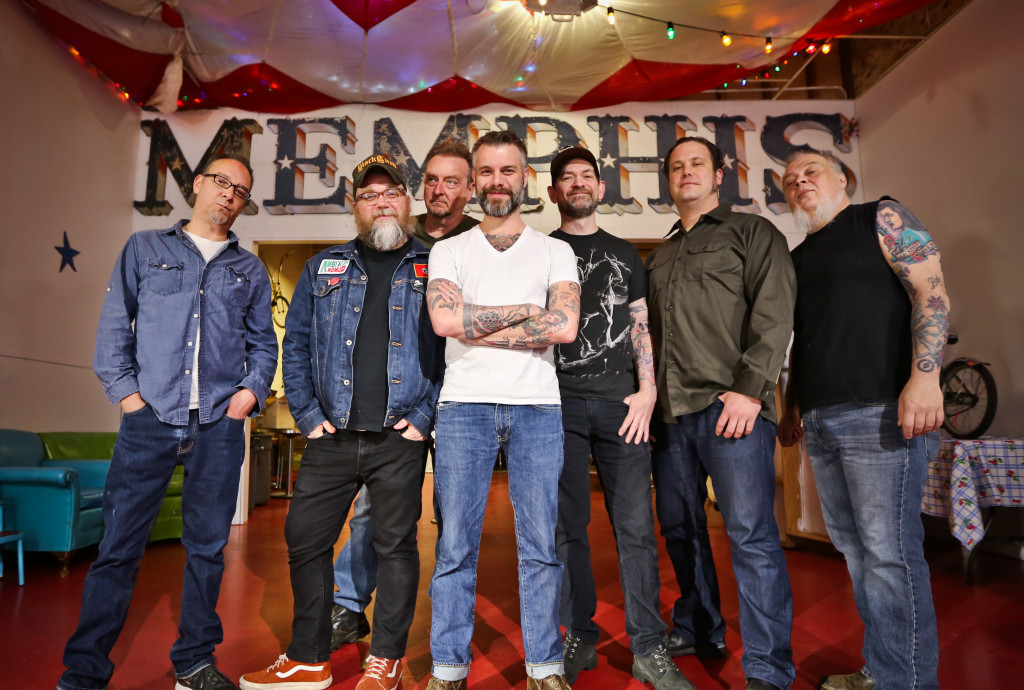 That leads us to Nichols and how he maintains a crowd even on record. He gladly takes a request for "Raising Hell" off of their self-titled 2001 debut and plays "Summer Song" from The Attic Tapes (2006) because of an earlier request when he was standing outside. I love artists that can just perform on a dime and get the audience involved. You can also hear throughout the album Nichols thanking fans for singing along. It is that sincere appreciation for Lucero fans that comes across during every song on Live From Atlanta which not only keeps listeners engaged but makes this album worth the price of admission.
If you have been a Lucero fan ever – Live From Atlanta is for you. It may be slightly more polished than you are accustomed to but overall it is a great representation of the real thing. Because it was recorded over three nights and because Lucero does not script out every move on stage the flow of this record has its up and downs with tempo but that really is how a show goes for these guys, so I can't hold that against them too much. I also would have liked to hear their Jawbreaker cover "Kiss the Bottle" and Nichols' solo track "The Last Pale Light in the West" as they are personal favorites. For the casual listener, Live From Atlanta's two hours may be too much. Its length really is more geared for longtime followers, although if you wanted to dig into Lucero from here you could, because of the vast catalog coverage. Personally, I much rather have this full represented version in front of me although listening all the way through after this may not happen that often. Regardless of your level of commitment, I recommend checking this out if you enjoy live shows. As Nichols says in the end, "we got time to play one more so I figure we will play two or three." That is exactly what I always want to hear!
Key Tracks: "I Can't Get Out Of Here" / "Rick's Boogie/Bastard's Lullaby" / "Tonight Ain't Gonna Be Good"
Artists With Similar Fire: The Replacements / Drive-By Truckers / Uncle Tupelo
Lucero Website
Lucero Facebook
– Reviewed by Christopher Anthony

Latest posts by Christopher Anthony
(see all)