Hausu


Total
Hardly Art Records [2013]



Fire Note Says: Hausu provide a fresh and precision based debut record.
Album Review: It wasn't till about the fourth track here on Hausu's debut, Total, that I started to get where the Portland, OR band was coming from with their retro post-punk sound. Did they sound like Fugazi? Do they have some Sonic Youth tendencies? Does the lead singer sound like the Cure's Robert Smith? All the answers are yes and as the grooving fourth track "Gardenia" takes over your speakers I forgot all about what Hausu's comparative sound was like and focused in on how their young talent has stayed true to the past while offering something truly fresh sounding here in 2013.
This sound all comes through on opening track "Chrysanthemum" which combines a wall of post-punk noise with lead singer Ben Friars Funkhouser's Robert Smith like vocals that ebbs this dark undertone while the band rips up the air in between his vocals. This combo keeps your ears busy through the entire song as it is a complex listen that can blow you away and then suck you back in. The next two tracks come off a bit meaner and tighter as "1991-2091" has several of its lyrics delivered with a scream. It is a song that feels as if it loses control but then the calm vocals of Funkhouser pull together the track by its seams. Total then gives you the hipster track "Gardenia" which is an excellent example of the balance that Hausu brings to the record as the over 5 minute track has Funkhouse singing the chorus while the intricate chord progressions and big noise blending of instruments are all controlled with precision and unleashed at just the right time to keep this song vibrant. This is the skill set that boosts Hausu profile as they pull off this retro post-punk blend song after song.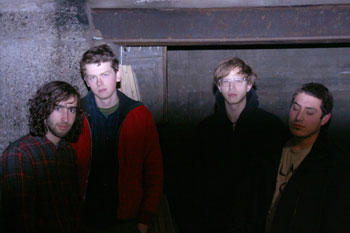 Hausu's strength comes from their ability to quickly turn a song upside down with their muscular guitar lines and pounding drums that can take off in seconds. All of this controlled chaos is paced by the calm and direct vocals of Funkhouser that always stays one tone above the fuzz. Total was not a record that immediately grabbed me but its interesting chord changes and stand out vocals kept me coming back. The multiple listens not only rewarded me with hearing new pieces each spin but allowed me to recognize that Hausu is one of the more exciting new bands in 2013!
Key Tracks: "Gardenia", "Bleak", "Chrysanthemum"
Artists With Similar Fire: The Cure / Fugazi / METZ
Hausu Website
Hausu Facebook
Hardly Art Records
-Reviewed by Christopher Anthony

Latest posts by Christopher Anthony
(see all)