Father John Misty


Fear Fun
Sub Pop Records [2012]


Fire Note Says: Josh Tillman follows up his exit with the Fleet Foxes with his excellent new project Father John Misty!
Album Review: Father John Misty is the new band from ex-Fleet Foxes drummer and solo singer/songwriter Josh Tillman. Fear Fun is his debut record under this moniker but Tillman has around seven solo records under his belt so he is an indie veteran that uses this new venture to spread his wings in a little different direction.
Fear Fun shakes off Tillman's comparisons to his solo Nick Drake style in favor of a much more upbeat blend of Fleet Foxes and David Bazan. This mix is spotlighted on "Hollywood Forever Cemetery Sings" as its strong brooding presence gets into your head immediately after the chorus and is an instant album highlight. On the more chamber pop "O I Long To Feel Your Arms Around Me" you feel right at home like his previous band but notice that the track wraps up in just a little over 2 minutes which gives it a different flavor.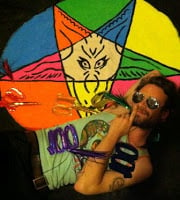 What helps Father John Misty stand out is its carefree approach to lyrical content. There is a grinning undertone on Fear Fun that makes you smile around every melody as there is a little humor surrounding the songs that cover various topics including death, drugs, sex and talking dogs. This more laid back vibe also transcends into Tillman's singing as "I'm Writing A Novel" is an upbeat foot tapper that finds him coming off like a young Richard Thompson with his vocal presentation and smooth storytelling while "This Is Sally Hatchet" has the focus and passion of Mark Kozelek.
If you have checked out Josh Tillman's previous solo work and/or have been a fan of the Fleet Foxes, Father John Misty will be an instant hit to your ears. It has just the right amount of similar styling to grab your interest but enough special moments and 70's folk pop influences to make Fear Fun unique and worth every minute you give it!
Key Tracks: "Hollywood Forever Cemetery Sings", "Only Son Of The Ladiesman", "Now I'm Learning To Love The War"
Artists With Similar Fire: David Bazan / Mark Kozelek / Harry Nilsson
Father John Misty Website
Father John Misty Facebook
Sub Pop Records
-Reviewed by Christopher Anthony

Latest posts by Christopher Anthony
(see all)