Faces On Film


Elite Lines
Self-Released [2014]



Fire Note Says: Faces On Film are ready for their close-up with Elite Lines.
Album Review: Faces On Film, based out of Boston, has self-released their third LP Elite Lines. With a very exhaustive 10-minute google search it was impossible to discern if Faces On Film is a solo project for Mike Fiore, or if there are in fact other established members of the band. I like to give props when they're due, and they are very much due here. Elite Lines was an instantly familiar album – you can tell that Fiore is a fan of music and borrows from many influences to inform his sound. At times you can hear a more restrained My Morning Jacket, at others a tripped-out Fleet Foxes. Heavy on subtle melody Faces On Film's music doesn't belong to any one era. Elite Lines sounds like it could've been made 40 years ago or yesterday.
When you first play the album you'll notice a tribal drumming in "Percy." That thumping propels the song and the whole album onwards. There were many great moments in Elite Lines, but the bridge to the first chorus in "Percy" with Fiore's echoing vocals and ensuing organ riff (yeah, you read that right) was one that stood out. The groovy "The Rule" is the best all-around song on the album and is worth a listen for any of you psychedelic pop lovers out there. With enough of an R&B feel to it to make it fresh, Fiore's voice intones a detached intensity. Piano is again used effectively to round out the sound of the song.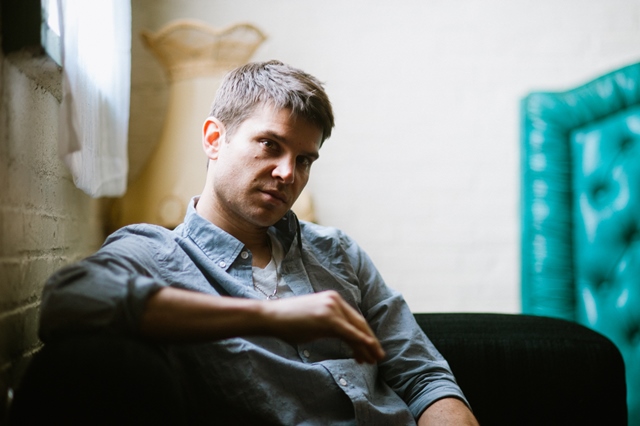 "Bad Star" stands out because of its emotional rawness matched with subdued instrumentation. With a simple guitar riff, soft percussion and bass, and Fiore's whisper of a voice, "Bad Star" works well. "Rake The Dust" rounds out the album and has a slight electronic element to it – Fiore mixes his keys well on the album with organ, piano, and synthesizer. Its primal beat lets the album finish with the same beat with which it began, seamlessly inviting you to give Elite Lines another listen right away.
At just under 30 minutes Elite Lines doesn't stick around long enough to get old. While the sound generally sticks to a 60's-inspired psychedelic pop there are enough other modern elements added along the way that makes this a modern-sounding album. Between Faces on Film and Gem Club Boston residents have a lot of great indie music to explore, and the two even appear to be playing together soon. That should be a great show.
Key Tracks: "The Rule," "Rake The Dust," "Bad Star"
Artists With Similar Fire: My Morning Jacket / Deerhunter / Girls

Faces On Film Facebook
-Reviewed by Matthew Heiner

Latest posts by Matthew Heiner
(see all)