Depeche Mode


Spirit
Columbia Records [2017]


Fire Note Says: On their 14th studio album, synth pop pioneers Depeche Mode have become more predictable compared to their early work.
Album Review: By now, nearly 40 years in, Depeche Mode must be the most popular and successful of the 80s bands that abandoned traditional instruments for the promise of the synthesizer. At different times it was called synth-pop, techno, new wave, industrial/dance or electronica, but it was Depeche Mode's pioneering spirit, a keen sense of melody and strong danceable beats in songs like "Just Can't Get Enough" and "People Are People" that brought them almost immediate success. But while bands like ABC and a-ha offered a brighter vision of life and love, DM songwriter Martin Gore hinted at a darker take, both philosophically ("Blasphemous Rumours" and "Black Celebration") and sexuality ("Strangelove" and "Master and Servant").
As the 90s approached bands like Human League, Orchestral Maneuvers in the Dark, and Ultravox were losing relevance, but Depeche Mode with an eye to heavier industrial bands like Ministry and the success of guitar driven bands like U2 and Jane's Addiction stepped up their game with U2 and Nine Inch Nails engineer/producer Flood at the helm. Together they made two of their biggest albums, Violator and Songs of Faith and Devotion, which produced a series of airplay hits: "Personal Jesus," "Policy of Truth," "I Feel You" and "Walking in My Shoes."
The central creative core of Depeche Mode – primary writer and multi-instrumentalist Gore, vocalist Dave Gahan, keyboardist Andy Fletcher – have stayed together through thick & thin producing a new album every four years or so, while touring regularly with big, art-y live shows that are dominated by past glories. As the years have passed the 50-something rockers have stayed the course, but with each new outing their music has become more and more predictable, the rhythms more and more sedate, compared to their early works.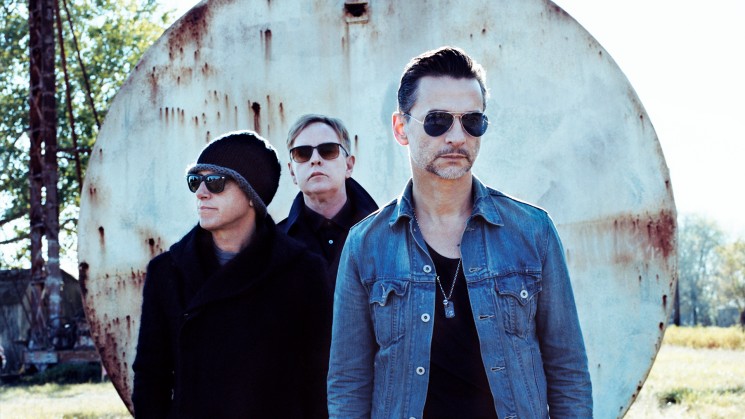 On their 14th studio album, Spirit, Depeche Mode has produced a solid collection of songs that fit the direction of their efforts of the 2000's, but the days of them pushing the envelope with fresh sounds and powerful new beats seem to be behind them. Producer James Ford plays organic drums, and the band's arsenal of keyboards and samples have come together in a somewhat formulaic and uninspired fashion, antithetical to the disc's title.
Where the band seems more inclined to dig a little deeper and break some new ground is lyrically, where Gore has produced some of the band's most direct political lyrics. In "Where's the Revolution," one of the album's strongest musical efforts, they sound a bit curmudgeonly when they complain, "C'mon people, you're letting me down," while in one of the disc's other musical highlights, "Poorman," they take on trickle-down economics where "corporations get the breaks/keeping almost everything they make."
The other musical high point is "So Much Love," which builds on faster beats per minute than anything else happening her, even though the melodic core of the song is more sedate. Here and in "You Move," which has a more sensual rhythm, Gore reveals a bit more spark. On the other hand, "Eternal," which sounds like a hymn to paternal love, but it feels more like a funeral dirge. And "The Worst Crime" and three by Gahan – "Cover Me," "Poison Heart" and "No More (This Is the Last Time)" – aren't much livelier.
The bookends of this collection share a condemnation for the way the world is working things out. "Going Backwards" opens with the observation that we're not evolving in the right direction, and "Fail" closes the album with less than a passing grade. In the middle they focus on some "Scum" who they invite to "pull the trigger" and end their life. Depeche Mode has always had a dark, brooding edge, but at their best they danced in the fire, and celebrated life where it could be found. The tone throughout Spirit is grim if not hopeless.
Key Tracks: "Where's the Revolution" / "Your Move" / "So Much Love"
Artists With Similar Fire: New Order / Nine Inch Nails / Pet Shop Boys
Depeche Mode Website
Depeche Mode Facebook
Columbia Records
– Reviewed by Brian Q. Newcomb
Latest posts by Brian Q. Newcomb
(see all)