Dead Confederate


Peyote People
Spiderbomb Records [2013]



Fire Note Says: Dead Confederate's mini album Peyote People gives an interesting look on what's to come.
Album Review: Rollin' across the southern sands, like a psychedelic tumbleweed out of Augusta, Georgia we have Dead Confederate which may be new to you but the band has some history. After really impressing past Geffen Record pres Gary Gersh the band immediately signed to his new label, The Artists Organization and since 2008 have released a two EPs and two full lengths. We are now met with the groups third EP or more of a mini album as it has 7 tracks. Peyote People should be an introduction on what tones, shapes, and sounds we might be able to expect on the David Barbe (Drive By Truckers, Deerhunter, The Glands) produced third LP In The Marrow due out later this year.
As if gearing up for a train robbery, album opener "Slave to Slavery" comes out of the gate guitars' blazing. Southern style chug drives the action while blaring bends freak out over the vocals. "First Fires" is the dawn induced campfire dirge under orange, purple skies. It's the psych pedal steel that cuts the dividing line between endless desert and setting of the burning sun.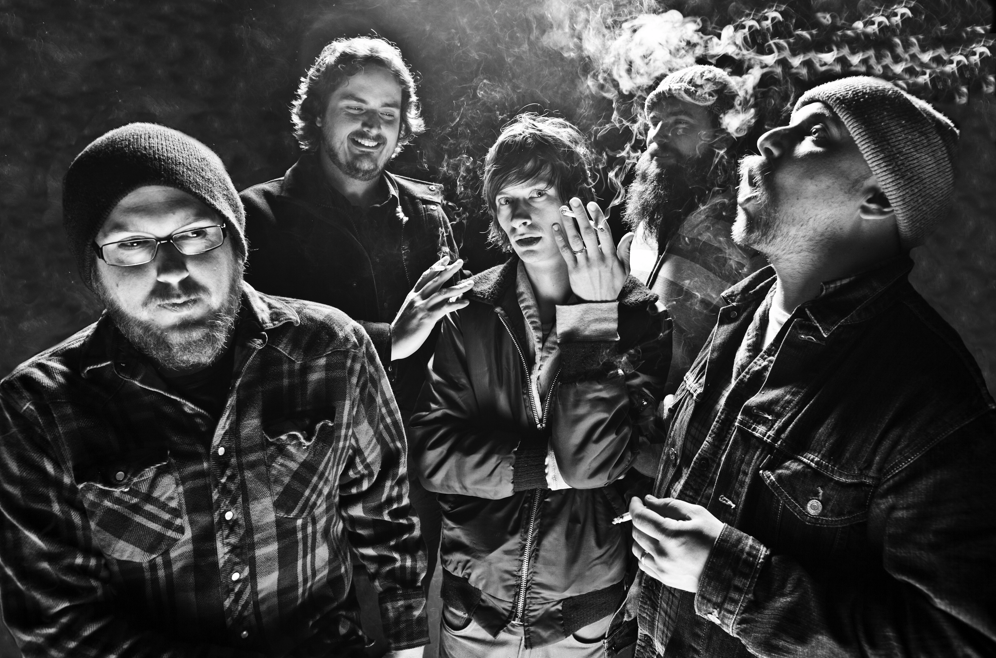 Next track, and album stand out "Godfather" shows a really cool prowess from Dead Confederate. It's a sharp bastardization of what sounds like The Decembrists "Rox in a Box" main guitar with that early, beautiful Jack White garage jangle. It's the thoughtful placement of that along with its hazy lose yourself freak out that make this a record stand out. "Get Away" is the lament of the determined desperado. Mysterious, hopeless, and timeless riding away from uncertainty. The dreamy pedal steel returns here, but it's a nice grungy fuzzed guitar that adds a moody disposition. Final track, "Golden Gifts" keeps everything in its southern psych perspective but adds a slow two-step tempo. Hardy Morris vocals carry a bit more of a drawl here and the unexpected Pink Floyd "Dark Side of the Moon" space finisher makes for a fitting end.
Dead Confederate's Peyote People makes for an interesting listen, it combines a southwestern ascetic with garage, grunge, and the smoke-heavy swagger of The Black Angels. If this is any reflection on what's to come then count me as an interested party for their third full length In The Marrow.
Key Tracks: "First Fires", "Godfather", "Golden Gifts"
Artists With Similar Fire: My Morning Jacket / The Whigs / Alberta Cross
Dead Confederate Website
Dead Confederate Facebook
-Reviewed by Christopher Tahy

Latest posts by Christopher Tahy
(see all)