Chris Stapleton


From A Room: Volume 1
Mercury Records Nashville [2017]


Fire Note Says: Chris Stapleton has arrived just in time to save country music from itself.
Album Review: By the time, Chris Stapleton got around to releasing his 2015 solo debut, Traveller, he'd pretty much proved there he was an artist deeply rooted in the outlaw tradition of country music and that there was little that they music required that he had not already mastered. He had the songs, he had the voice, on top of that he had stellar guitar skills to sweeten the pot, and given the current state of modern country radio – here's a clue: you take any mean joke about Nickleback, and replace the band's name with Florida Georgia Line and it gets funnier – Stapleton arrived right on time.
As a songwriter, Stapleton already had six songs reach number one on the country charts, including "Love's Gonna Make It Alright" performed by George Strait, and "Never Wanted Nothing More" recorded by Kenny Chesney. His talents cross musical genres, and beside having his songs recorded by some to the brightest shining stars of country music, he's had a song recorded by Adele, and has co-written with Peter Frampton and Sheryl Crow.
And Stapleton's cross-genre skills extend beyond songwriting, at the 2016 Grammy Award Show, where he took home the Best Country Album award for Traveller, and then led off the tribute to B.B. King singing and playing guitar on the first verse of "The Thrill Is Gone," before he was joined by Gary Clark Jr. and Bonnie Raitt. To say that he held his own in that elite company would be an understatement.
Recorded in and taking it's name from the famous RCA-Nashville Studio A, where long-time music icons like Dolly Parton and Willie Nelson as well as new recording stars like Miranda Lambert and Keith Urban have recorded, Stapleton reconnected with Traveller producer Dave Cobb to create a sound that feels stripped back, close up and intimate. Backed by his own band, and his singer/songwriter wife Morgane Hayes-Stapleton on harmony vocals, Stapleton keeps it simple, avoiding high-tech embellishments and excessive bells and whistles.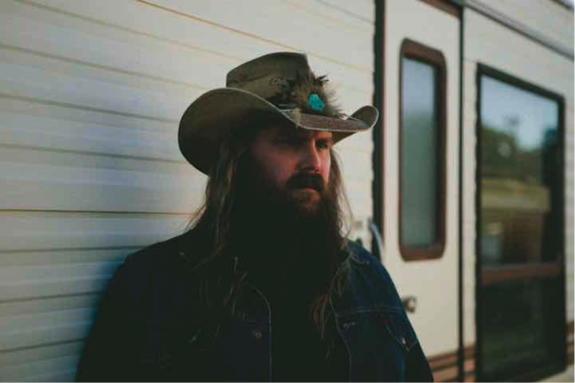 Each song gets an arrangement that best suits its content; the opener, "Broken Halo" relies largely on Stapleton's acoustic guitar strumming and big, soulful voice, with just enough drumming and support from the band to carry the song to the finish line. Like so much of folk music, the song deals with challenges and struggles of peoples lives, but when it comes to the bigger questions, Stapleton's advice is not to bother: "don't go looking for the reasons, don't go asking Jesus why/We're not meant to know the answers, they belong to the by and by."
Stapleton's voice is a beautiful thing to hear. He's been compared to Merle Haggard, but on the album's one cover, "Last Thing I Needed, First Thing This Morning" was originally recorded by Willie Nelson, and other times his voice recalls Ray Charles and Otis Redding. And one might suggest that "Them Stems," about hitting bottom, the bottom of his bag of weed that is, finds him following in Willie's footsteps as well.
Stapleton's subject matter tends to the territory of old school country: love lost or unrequited, hard drinking and harder living, blues and regret, and overcoming one's past hard drinking and living. "Up to No Good Livin'" covers that last idea, as a man tries to convince his partner that she can trust him now, his love for her has changed him for good. Well, for now.
"Second One to Know" leans into rock & roll territory, while "I Was Wrong" is a blues in the tradition of Freddy King, most mostly these songs are folk and country leaning songs that are delivered without being over-sold, although Stapleton's large and soulful voice is what really connects. And on the few tunes when he let's loose some guitar soloing, he leaves us longing for more.
And while this album is full of good music, the best news is that it's only Volume 1, and he's promised another album later this year.
Key Tracks: "Broken Halos" / "Either Way" / "I Was Wrong"
Artists With Similar Fire: Vince Gill / Waylon Jennings / Keith Urban
Chris Stapleton Website
Chris Stapleton Facebook
Mercury Records Nashville
– Reviewed by Brian Q. Newcomb
Latest posts by Brian Q. Newcomb
(see all)