Bear In Heaven


Time Is Over One Day Old
Dead Oceans [2014]



Fire Note Says: Bear In Heaven sticks with their sound for better and worse on Time Is Over One Day Old.
Album Review: Bear In Heaven is one of those bands with a distinctive sound. You know when you're listening to a Bear In Heaven album from the first note, and this holds true for their newest release Time Is Over One Day Old. The Brooklyn band, fronted by Jon Philpot, now has four LP's to their credit. My personal favorite happens to be 2009's Beast Rest Forth Mouth, with the haunting track "Lovesick Teenagers." Not much has changed from a sonic perspective since those days, which bodes well for deeply-devoted fans but maybe not so much for the fairweather ones.
For those not familiar with the Bear In Heaven sound, it can be described as electronic-infused psychedelic pop. Heavy on synthesizer and guitar, Philpot's drone of a voice is typically harmonized during each chorus. This formula plays well on "Time Between." It's hypnotic and carries you away to a primal place, in spite of its modern accoutrements. "They Dream" is another trippy number that puts all the pieces together to make for a memorable experience. It's the centerpiece of the album for good reason.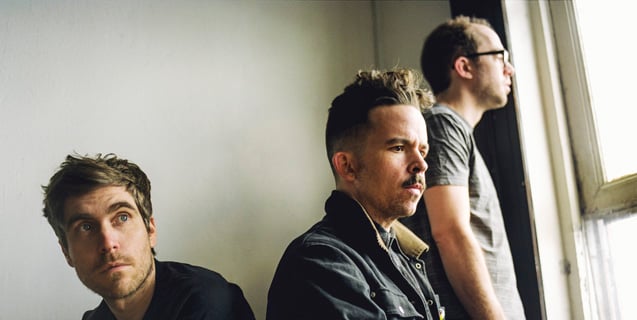 "Memory Heart" dials things back with a discipline that enhances the tone of the track. The chorus is the strongest of the album. However, the margin for error is really slim with Bear In Heaven. "If I Were To Lie" uses a funky bass line to change things up, but Philpot's sober lyrics fall flat with the change in sound. These misfires make for an uneven album that doesn't live up to its potential. Between that and the sameness of the overall sound of the album, Bear In Heaven has failed to surprise or deeply engage on Time Is Over One Day Old.
Key Tracks: "Time Between" / "They Dream" / "Memory Heart"
Artists With Similar Fire: Animal Collective / The Antlers / Memory Tapes
Bear In Heaven Website
Bear In Heaven Facebook
Dead Oceans
-Reviewed by Matthew Heiner

Latest posts by Matthew Heiner
(see all)