The National has announced the release of its ninth studio album, First Two Pages of Frankenstein, due April 28, 2023 via 4AD. Anchored by evocative melodies and an enthralling lyrical narrative, First Two Pages of Frankenstein signals a new chapter in the band's beloved discography. The 11-song album was produced by The National at Long Pond Studios in upstate New York and features guest appearances by Taylor Swift, Phoebe Bridgers and Sufjan Stevens.
You can order the new album HERE.
After two back-to-back albums and several busy years of touring, First Two Pages of Frankenstein was initially stalled while lead singer Matt Berninger navigated, "a very dark spot where I couldn't come up with lyrics or melodies at all. Even though we'd always been anxious whenever we were working on a record, this was the first time it ever felt like maybe things really had come to an end." Instead, The National "managed to come back together and approach everything from a different angle, and because of that we arrived at what feels like a new era for the band," according to guitarist/pianist Bryce Dessner, whose bandmates also include his brother Aaron (guitar/piano/bass) as well as brothers Scott Devendorf (bass, guitar) and Bryan Devendorf (drums).
Co-written with Berninger's wife Carin Besser, "Tropic Morning News" takes its title from a phrase Besser invented to describe the regrettably routine practice of doomscrolling. "The idea of referring to the darkness of the news in such a light way unlocked something in me," says Berninger. "It became a song about having a hard time expressing yourself, and trying to connect with someone when the noise of the world is drowning out any potential for conversation."
The band has also today announced 2023 tour dates including a show at NYC's Madison Square Garden with very special guest Patti Smith and her band. Other shows feature opening sets from Soccer Mommy, The Beths and Bartees Strange. Tickets go on sale Friday, January 27th at 10:00AM local time. Dates can be found below and ticket info can be found at AmericanMary.com.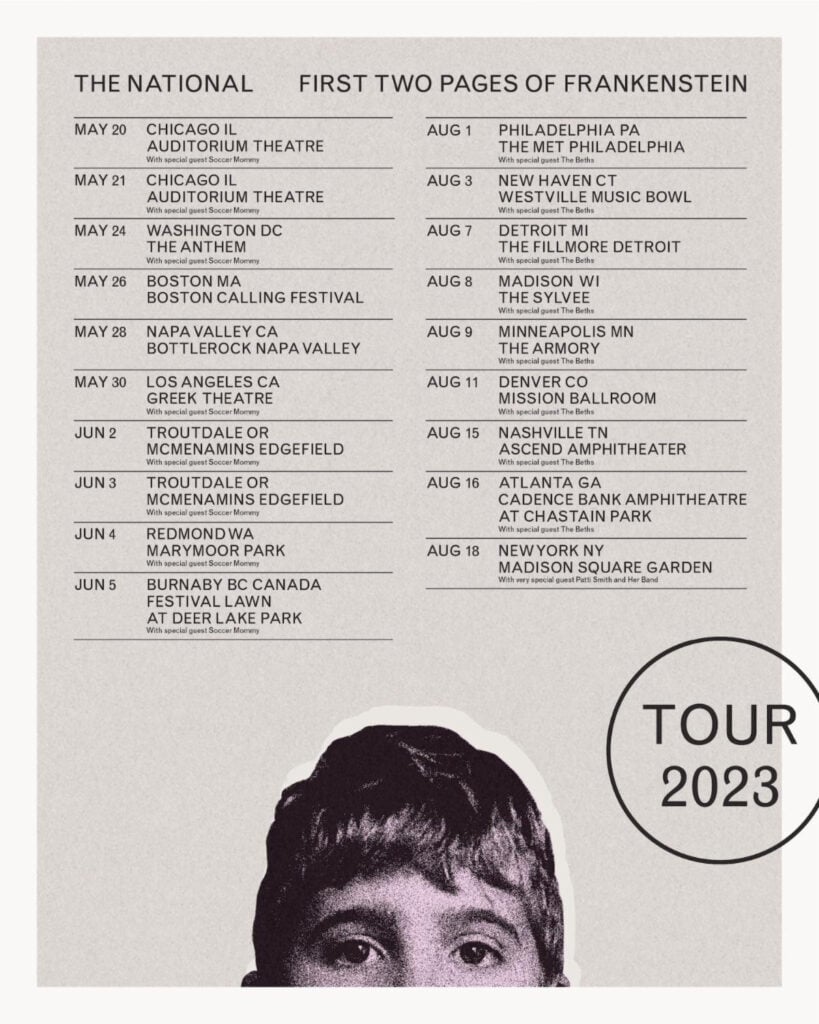 Latest posts by Fire Note Staff
(see all)